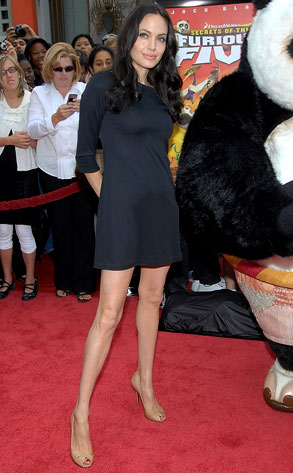 AP Photo/Dan Steinberg
Angelina Jolie, just like Joaquin Phoenix, knows precisely what she's doing by telling BBC News she's not that long for the acting game. Both actors have said, essentially, they're just not that into us anymore and want to concentrate on other things, music for him, peddling children for her.
It's just more look-at-me biz from both highly sensitive performers—although for quite different reasons.
Poor Joaq's got a whole butt load of emotional probs to sift through (how much time do you have right now?). Angie, just one, essentially. Hates her dad, always has, always will; it drives almost everything she does.
"She will never get over that one," a close family friend told me, regarding Jon Voight, who cheated on Angie's late mom. So, what we're in for is a whole a host of rebirths and chameleonic life swaps from Ms. J until she comes to terms with the fact that her behavior isn't so different from her father's.
And until that time passes, Jolie will most likely have retired from the screen about 242,000 times, while somehow miraculously finding the ability to keep getting nominated for Oscar after Oscar.