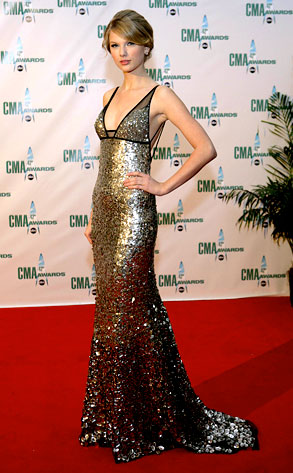 ABC/ADAM LARKEY
• Taylor Swift will not stop with the Joe Jonas oversharing until he is destroyed. Last night at the CMAs, she told reporters all about him leaving her for Camilla Belle. Oh, and here's her song about him.
• Madonna is going around trying to make her friends vomit with this line about A-Rod: "He has the heart of a poet trapped inside an insanely gorgeous body."
• Of course Mariah Carey has a North Pole room in her Aspen cabin and prances around in a "red bikini with a Santa hat" for the holidays.
• Kanye West believes his mom died because of their move to L.A. "If we were still in Chicago she wouldn't have had that done. I've been going through anguish thinking about it," he says. The "that" being plastic surgery.
• LiLo and SamRo's paradise was threatened last night when Calum Best, a male ex-lover of Lindsay's, tried to crash Sam's DJ gig.