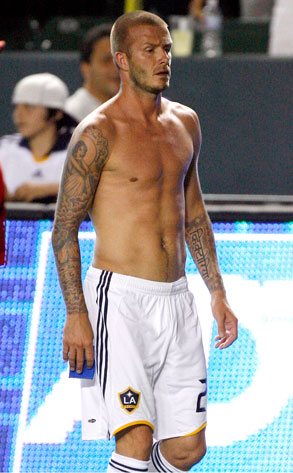 PacificCoastNews.com
We aren't really sports fanatics here—we tuned into the Olympics for Phelps' abs, not his athletic ability. But when there's a celeb doing the swinging, swimming or kicking, we take extra-special attention. The L.A. Galaxy, L.A.'s own soccer team with British babe import David Beckham, ain't having the greatest year.
In fact, they're having their worst year ever. D.B.'s team scored a tragic 29 points in 27 games, the lowest amount since the team's inception, even going 12 straight games without a win.
Wasn't Golden Boy Becks, the club captain, s'posed to be some lucky charm or something? He's the highest paid member of the team, scoring a deal reportedly worth a whopping $250 mil.
But as soon the Beckham clan arrived on American soil, Davey immediately busted his knee and couldn't play for six weeks, resulting in the team's worst year, until now anyway. So, is that butt load of money well-spent?
We inquired with both the Galaxy's and Beckham's reps about their disappointing year, haven't heard back. Maybe a pep talk's in order for some teammates who might have an inferiority complex while the international superstar underwear model's on the field with them.
Guess there's a silver lining somewhere—attendance at Galaxy games has never been better, every supposed soccer fan coming out in droves to see Posh's hubby play, hoping that Vicky and the kiddies will be cheering from their VIP box. And Tom Cruise has a much needed new BFF, which is heaven-sent stuff, truly.
—Additional reporting by Becky Bain