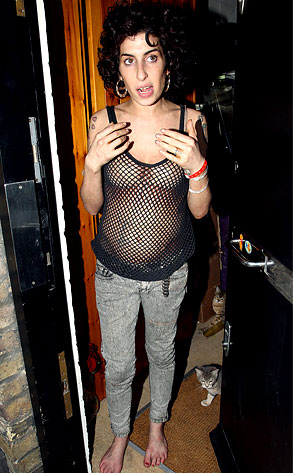 Goff/INFphoto.com
Why isn't Dr. Phil, celeb counselor of all things publicly wacko (like Britney) swooping into to help our fave addicted beehive mess? But first, let's focus on the positive: Amy Winehouse looks better. Not perfect, not great, not even OK—just better. But when we usually see girlfriend covered in bloody scratches with more scabs on her face than teeth in her mouth, looking slightly less awful is a good thing. Ames, outside her London home, managed to put on clean clothes, maybe just in case her newly free hubby stopped by for a cup of tea. Sure, A.W.'s mesh shirt and acid-washed jeans look straight out of an '80s music vid, but it's nice to see her donning more than a bra.
But Winehouse still has a helluva long way to go, and there's gotta be someone to help her out. And since Dr. Phil was so anxious to help formerly destitute Britney at the beginning of the psycho year, we thought the doc would jump at the chance to help this other wayward pop singer. We inquired with Dr. P about whether he'd be down to advise Amy on her recovery, and his snitty reps shot back:
"Dr. Phil does not do on-on-one counseling. He does not have any current plans to do a show on Amy Winehouse."
Uh, did we say do a show on her? No. We just asked if he would go help the gal out. Guess that's the only way Dr. Phil plans on helping people, as long as there's ratings in it for him. Interesting, as this audience-included dynamic is also the reason Lynne Spears finally woke up and backed outta any Dr. Phil-style help for Britney: She realized he had no intention whatsoever of doing anything without a camera crew.
—Additional reporting by Becky Bain