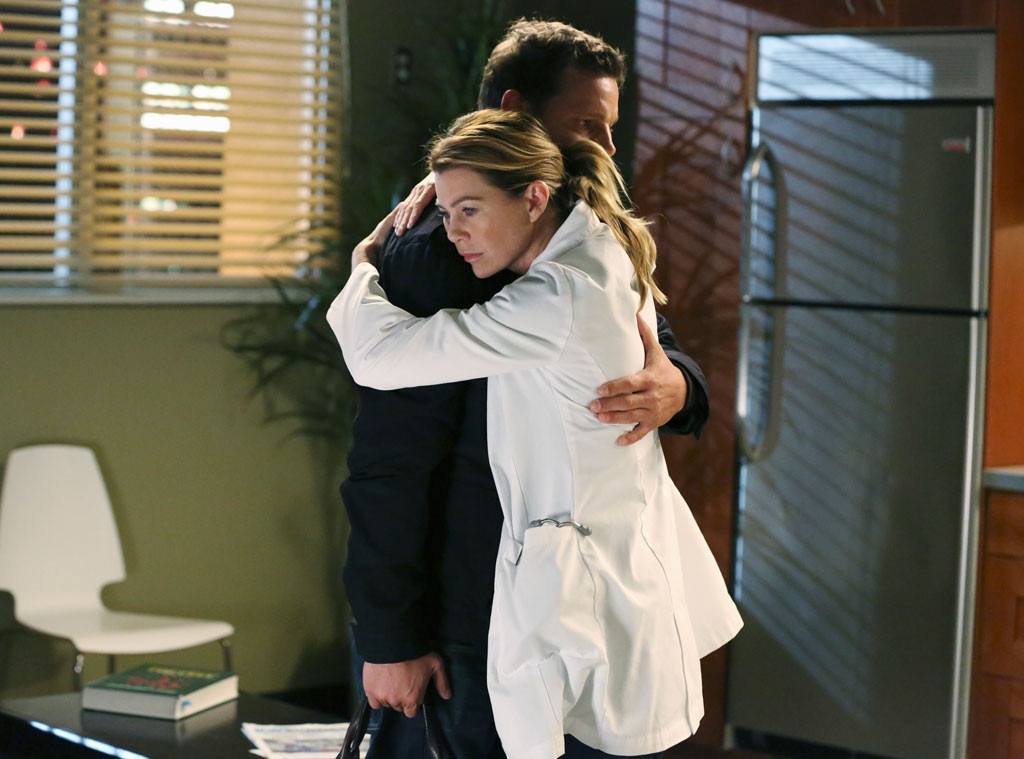 ABC
Calling all Grey's Anatomy fans: now that you've finally stopped crying about Derek "McDreamy" Shepherd's (Patrick Dempsey) death, get ready for those tears to start falling again. Shonda Rhimes stands by her decision to kill off the fan-favorite character the way she did at the end of last season...but for a good reason!
"The decision to have the character die the way that he did was not a difficult one in the sense of what were the options?" Rhimes said at the 2015 Summer TCA press tour. "Either Derek was going to walk out on Meredith [Ellen Pompeo], and leave her high and dry, and what was that going to mean? That was going to suggest that the love was not true, the thing we had said for 11 years was a lie and McDreamy wasn't McDreamy. For me, that was untenable."
"Meredith and Derek's love had to remain Meredith and Derek's love," Rhimes says. "As painful as it was for me as a storyteller, because I had never really thought that was going to happen, it preserved what felt true to me, was that Derek was going to have to die in order for that love to remain honest. Because I really couldn't have the idea that he just turned out to be a bad guy who walked out on his wife and kids be a true story. To me, it felt like that was the only way to make Meredith and Derek's magic remain true and forever frozen in time."
And Rhimes revealed during the #TGIT panel that the decision to have Dempsey exit the show after 11 years (and one year before his contract ended) was mutual.
"We had a lot of discussions about it," Rhimes says. "It wasn't easy or fun, it is never easy or fun. We've been working really hard for a long time together. We're family. Those choices and those decisions are never easy for any of us."
Pompeo agreed that losing her onscreen partner was tough, but she loved the opportunities it gave her.
"As difficult as those decisions are, it's really her best writing," Pompeo told the room full of reporters. "So as an actor, those are the best scenes to play. That's the meatiest stuff. As difficult as it is, we have something really juicy."
When E! News caught up with Rhimes after the panel ended, she revealed that since she didn't think "this show would go this long," she "never had exit plans for anybody" in mind.
"I didn't have an exit plan for Sandra [Oh]," Rhimes tells E! News. "Oh my god, I didn't have an exit plan for her. So as the show goes longer and longer, the originals, I think it's fascinating that everyone's like, 'Oh my god, this person wants to leave?' Like yeah, Patrick wants to leave. It's been 11 seasons for god's sake, let the man go! Please! It doesn't drive me crazy, but I think it's fascinating that after 248 episodes, people are shocked that he wants a break, that he's done."
She continues, "I never had an exit plan, so for me coming up with one was difficult, but it was rewarding in the end. He and I were both extremely proud of how he exited. We talked about it a lot and we were extremely proud. It was brutal and I found it incredibly painful to write and painful to watch."
Because of how they decided to write McDreamy's death, Rhimes couldn't bring herself to go to set while it was being shot.
"I did not go to a single moment of the filming because I was like, 'I am just going to stand there and cry like an idiot.' Seriously," Rhimes says. "The editing toom was just me with some tissues, but it was really, really amazing. The work that he did and the work that Ellen did just killed me."
And as for that year-long time jump, Rhimes reveals that was the only way to take the show after Derek died. 
"Because I could not imagine a world in which Meredith could go like a month and then be able to even speak or breathe...I couldn't imagine a world in which she could go six months and be able to speak or breathe," Rhimes says. "I needed there to be time to have passed for her to even be in a place at which I felt like she could have a conversation." 
So what does this mean for Grey's Anatomy going forward? As hard as it may be to imagine right now in the wake of such a huge loss, get ready for a "lighter" season 12!
"Grey's, there's a much sort of lighter tone this year that we're going for," Rhimes says. "Meredith Grey has never been defined by her relationship with a man."
We couldn't have said it better ourselves!