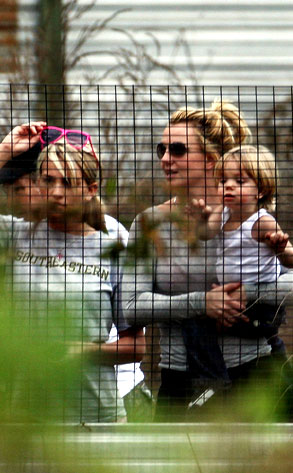 INFdaily.com
Finally, an adventure that the whole Spears clan could get behind.
A day after 2-year-old Jayden James was released from the hospital after suffering an allergic reaction, Britney took her brood to a wild alligator farm in Hammond, La., a short hop from the Spears' Kentwood abode.
The group, which included Britney, Jayden, 3-year-old Sean Preston, Jamie Lynn Spears and her daughter Maddie, and matriarch Lynne Spears, appeared to be in good spirits, an eyewitness told E! News.
Jayden sidled right up to the chain-link fence surrounding the nests to get a closer look at the creatures populating Kliebert's Turtle and Alligator Tours, while big brother Sean preferred the safety of grandma Lynne's arms.
According to Kliebert's website, the farm, which has been raising alligators for nearly five decades, features thousands of alligators, as well as turtles and a bird sanctuary.