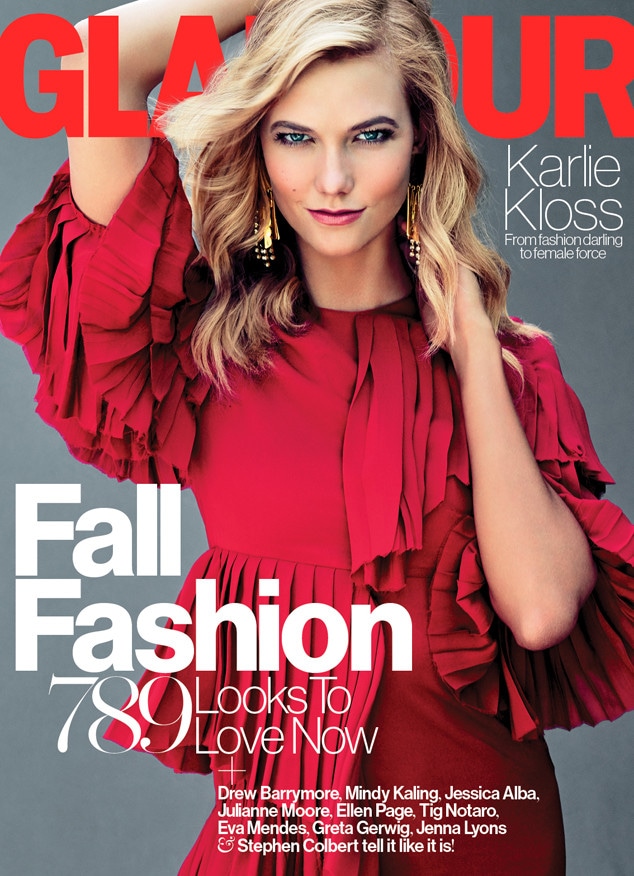 Tom Munro/Glamour Magazine
We're only four days into August, but Karlie Kloss has already established who'll be reigning as queen of the magazine cover space this month.
Landing a front spot on any glossy's September issue a big deal (huge!). But to those who are familiar with Karlie's rapid accession to the top of the modeling totem pole, it's hardly shocking that she's already one of the most coveted faces in the industry now. On Glamour's September tome, the newly 23-year-old dons a fringed crimson Gucci Dress that pretty much clinches it: All eyes on Karlie.
In the issue, Kloss opens up about her education aspirations (she's hardcore into coding, if you didn't know), as well as her famous friends—notably lookalike bestie Taylor Swift, who she met at the 2013 Victoria's Secret Fashion Show.
"Our friendship is the same as yours and mine," she says of Swift. "Many of my closest friends are traveling all the time, so it takes constant effort—texting, FaceTiming—on all ends to maintain close relationships." The ladies obviously take the time to stay close, as shown in Taylor's sweet birthday wish Instagram for Karlie, which she shared with followers on August 3.
The model also admits that she sometimes feels self-conscious modeling as, well, herself (hard to believe, we know!).
"What's funny is that I actually feel the most uncomfortable when I'm photographed as myself. I rely on taking on a particular role, like an Oscar de la Renta society swan or a Diane von Furstenberg business lady. I feel more vulnerable when it's just me up there," she said.
Family remains a top priority for Karlie, who gets candid about her mother's battle with breast cancer 19 years ago.
"Watching her come out of that was one of the most inspiring things I'll experience in life," she said. "That's resilience. That's strength. My mother is a huge source of inspiration for me."
Nino Muñoz, stocklandmartel.com
Karlie continues to open about family in Flare's September issue, the cover of which shows the blond beauty in a sexy plunging white top and flared denim jeans (natch), all by Joe Fresh in collaboration with Flare (Karlie fronts the brand's latest campaign, adding yet another fall ad series under her belt).
"My family's support keeps me going and taking time off to spend with them is what has allowed me to stay driven," she said, echoing her sentiments in Glamour.
And about that little coding obsession? It's not just a hobby for the star—who's even Instagrammed her programming work for college. (Her major, however, is still undecided—which is fine, because we're sure Karlie can do anything.)
"There's a big misconception that coding is strictly mathematical; it's actually incredibly creative. Code runs everything around us, and young women are so important to defining the future," she said.
Flare hits newsstands August 10, while you can get your hands on Glamour one day later, August 11.