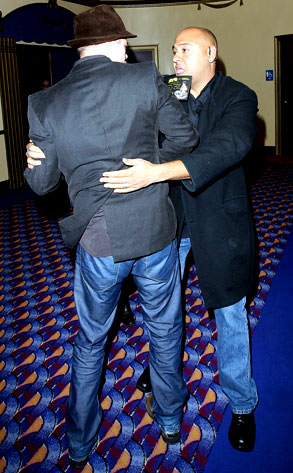 X17online.com
• Brad Pitt wound up with an overenthusiastic security guard at a screening of The Curious Case of Benjamin Button last night. The dude used some paparazzi dramz as an excuse to get frisky with Brad, all while clutching a brochure for a karate studio in his teeth. As you can see, Brad did not approve.
• Robert Pattinson's appearance at a mall in San Francisco caused a mini riot of teen girls resulting in at least one being trampled, one fainting and one suffering a broken nose.
• Madonna's reported 12 rules of child custody are pretty strict, and include fun-killers like no spiritually unsound toys, no introductions to Guy's lady friends and no newspapers, TV or DVDs.
• Why are Miley Cyrus and Underwear Dude hanging out with Stephen Baldwin? That seems a little strange.
• Esquire challenges themselves by seeing how many times they can call Vince Vaughn fat in their cover story.