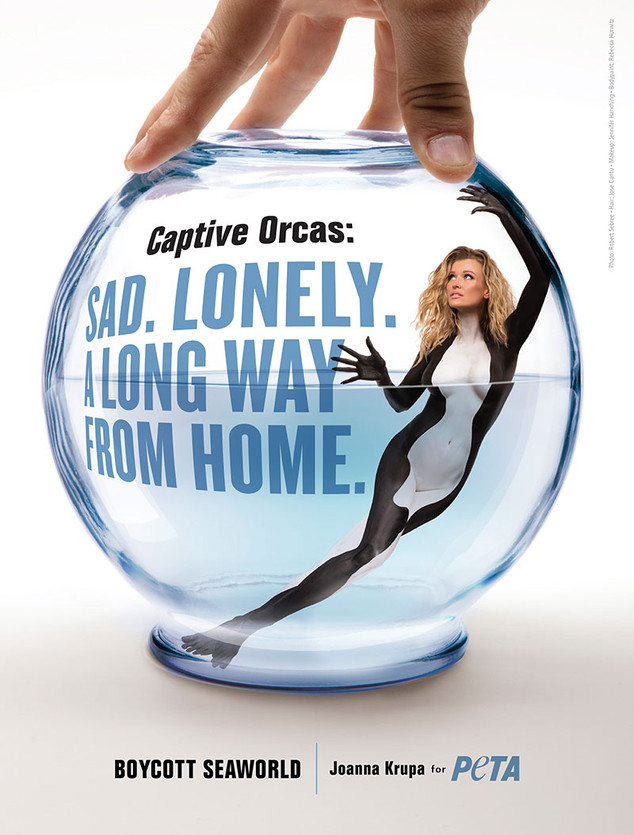 PETA
Joanna Krupa got naked to help PETA again, this time to free Willy.
The 36-year-old Polish Real Housewives of Miami star and model emulates an Orca whale in black and white body paint in a NSFW photo and behind-the-scenes video the animal rights group posted this week to protest SeaWorld. In the print ad, she is pictured inside a fish bowl alongside the words, "Captive Orcas: Sad. Lonely. A long way from home."
"I am a whale, an Orca, but the way I envisioned it, is, for me, animals are not much different than human brings," Krupa said in the clip. "We both feel pain. You know, when they're separated from their families, they cry. So, it's like, for me, it's the same thing. That's why I wanted to still keep myself looking like myself and having the symbol of the Orca painted on my body. And I can only envision and feel the pain of these animals being stuck in a tiny aquarium."
"I mean, your whole life is stuck there. It's like, why?" she added. "For the profit of selfish human beings?"