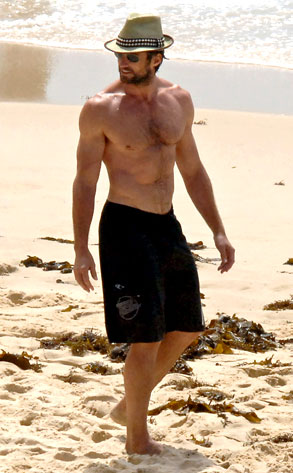 INCO/Fame Pictures
Dear Ted:
My sister and I were just discussing the trailer for the movie Australia, which led us to a discussion of Hugh Jackman, which led me to wonder: Has Hugh ever been the subject of one of your Blind Vices?
—Em
Dear Daring Down Under:
Has he ever.
Dear Ted:
Can Angelina Jolie and Brad Pitt do anything low-key? I'm getting tired of the media overload. This is right up there with Jennifer Lopez of the past.
—Donna
Dear Overloaded:
Hey, both babes had twins—maybe their DNA crossed at some H'wood event? Tho A.J. opts for black, while old J.Lo barely wore anything at all. She'd be no fun if she was low-key, like she is now.
Dear Ted:
Must speak out against readers who call you a "whiner" for continuing to champion equal rights. Just because Prop 8 passed, doesn't make it right—much less infallible—any more than the arrogant delusion that "God" is on the side of a specific church or political party. Basically, Prop 8 discriminates against the gene pool. Somebody over here named Adolf did that, too, and millions thought he (like Prop8) was right.
—Susan, Germany
Dear Heavy:
Not sure I was prepared to go quite that far, but I'm awfully glad you did.
Dear Ted:
OK, I admit it, I haven't read your goodies in a long time because I can't follow the new blog...doesn't flow easily. But I missed ya, so I'm going to try my damnedest to read it. Because I haven't been around for a while, so I don't know if you've mentioned Hayden C. and Rachel B. OK, what the hell is up with these two? Everyone who follows any H&R news suspects the hookup is a sham. So, what's the point of this showmance?
—maxjaxxon