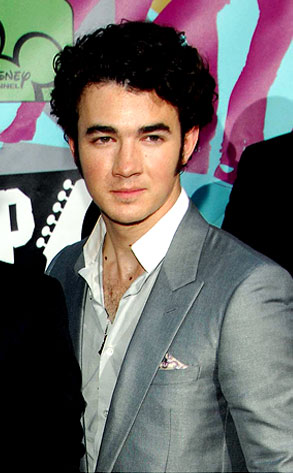 Zak Brian/Sipa for AP
Tuesday was a pretty big day for Americans, but for citizens of Jonas world, Wednesday was totally major! Of course we're talking about the extraspecial B-day of Kevin Jonas, who hit the big two-one. "Kevin here. Still can't believe I just turned 21 years old," he wrote in his MySpace blog, but he's not the only one in disbelief.
Is it just us, or is Kevin looking old?! He seems to have a kind of permanent squint now, the way old people do, like they're always thinking about their problems or something. You've got to admit, he does look pretty serious these days. (And don't say he needs a drink—he may be legal, but Kevin's staying pure!) Plus he has those gross neck moles, which the elderly have.
Aging isn't easy, especially in show business, where you're always competing with younger, cuter guys, and sometimes they're your own brothers! Ouch! Who knows? Maybe it's job tension, or worrying about that receding hairline, but Kevin looks at least 25, if you ask us. What do you think?