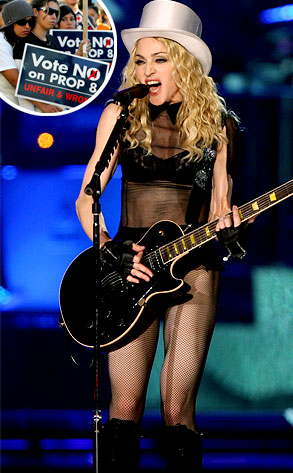 AP Photo/Gary Kazanjian; John Shearer/Getty Images
No doubt Madonna has done plenty for gay rights over the years, but where has she been during this year's very heated—and very expensive—fight to try and save gay marriage in California?
Until her concert last night in Los Angeles, the outspoken politically minded Queen of Pop had been uncharacteristically silent about Prop. 8, the ballot measure that overturned the legalization of same-sex unions in California.
She didn't even speak a word of it during her concert in San Francisco—San Francisco!—on the Saturday just before Election Day.
And even when she did finally say something, it was brief—very brief.