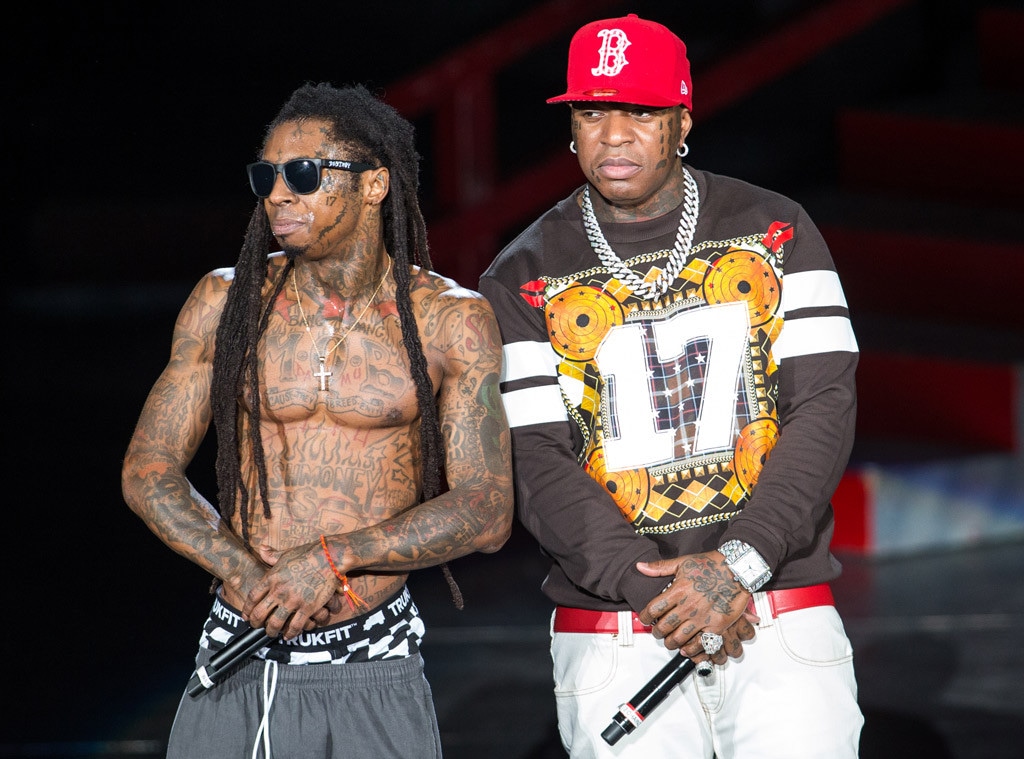 Paul A. Hebert/Invision/AP
The feud between rappers Lil Wayne and Birdman has taken a very scary turn.
E! News has obtained a legal indictment from June 25 against Jimmy Winfrey, who was charged for the shooting of Lil Wayne's tour buses that occurred in April. But the crazy part? The indictment also names Birdman (real name Bryan Williams) and Young Thug (Jeffrey Williams), saying Winfrey called cellphones linked to these rappers before and after the gunfire.
The court documents, filed in Cob County, Ga., details 30 counts against Winfrey—including aggravated assault, criminal damage to property, possession of a firearm and violation of both the RICO Act and Street Gang Terrorism Prevention Act.
Birdman and Young Thug are not facing charges.
The indictment opens by giving substantial background, first identifying Winfrey, Young Thug, Birdman and Lil Wayne as Blood gang members, and claiming that the defendant (Winfrey) is a high-ranking member in the Young Slime Life subset of the Bloods.
Bennett Raglin/BET/Getty Images for BET
The majority of the "background" section explains what happened on the night of April 26, claiming that five days before the shooting, Young Thug posted a video to Instagram making gang references and threats to Lil Wayne, which included Winfrey and visible weapons.
It goes on to say that on the night of the incident, Young Thug was booed offstage at a New Orleans gig to the crowd chanting Lil Wayne's name, with Wayne performing the same night in Atlanta.
The legal papers allege that Winfrey and other Blood associates began organizing their attack around the time Lil Wayne hit the stage. Atlanta police saw Winfrey pull up outside the venue in a white Chevrolet Camaro.
Officers noticed that Winfrey "had an assault rifle in his vehicle," according to the document. It says police, "fearing gang violence," and escorted Lil Wayne from the club. Patrol cars stayed with his buses until they left the Atlanta city limits.
The indictment then claims Winfrey trailed the convoy and sidled up next to the buses, opening fire with two handguns into both buses. Winfrey later called a phone owned by Birdman, according to the papers, and hid his car. "On April 26th, Jimmy Winfrey carried out [Young Thug's] threat [in the "Halftime" video] and shot at two tour buses," the indictment claims.
E! News has reached out to both Wayne and Birdman's camps for comment.
The once tight-knit relationship between Weezy and Birdman (Wayne used to refer to Williams as a father figure) went left last year following a dispute over management and the release of Lil Wayne's latest album, Tha Carter V.
The attack on Lil Wayne's tour buses came a few months after he filed a federal lawsuit in New York claiming Cash Money Records owed him $8 million. The suit, which sought $51 million, was soon dropped by the rapper.