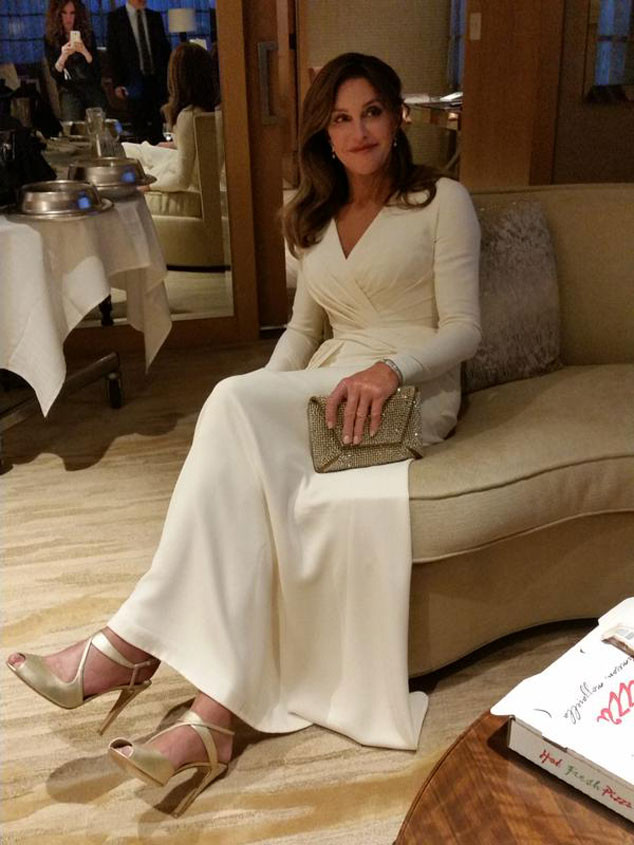 Jen Rade
Caitlyn Jenner went for gold at the 2015 ESPY Awards—on her feet, that is!
The star sported custom-made sun washed nappa Stuart Weitzman sandals (one of at least two pairs of heels she wore last night) in a flattering pale gold shade to offset her white Atelier Versace dress, and we have some serious shoe envy. Stuart Weitzman shared a photo—taken by stylist Jen Rade—that offers a prime peek of the gilded foot-candy Caitlyn wears while sitting pretty backstage during the show. Rade, by the way, works with Angelina Jolie, which may explain why Caitlyn's dress harked to one of the actress' sexiest premiere looks ever.
The haute shoe brand tweeted the shot one day after Jenner's stunning ESPYs appearance, writing, "So chic! @Caitlyn_Jenner snapped looking fabulous behind-the-scenes at last night's #ESPYS #inourshoes."
But gold shoes weren't the only luxe accessories the star had on hand to accept the 2015 Arthur Ashe Courage Award: She also sported a glimmering metallic clutch and vintage baubles from Beladora estate jewelry, including emerald, ruby and pearl earrings and an art deco diamond and sapphire bracelet.
The white Versace dress, however, was star of the night—and made for the most glamourous Caitlyn we've seen since her history-making Vanity Fair shoot.