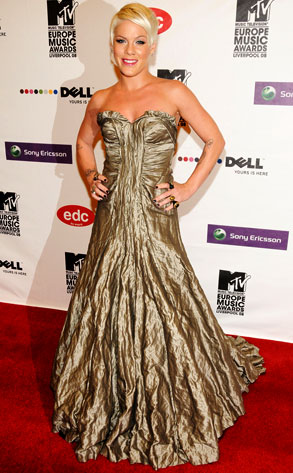 Kevin Mazur/Getty Images
There's just something not right about Pink wearing a dress.
P-hon donned this frock at the MTV Europe Music Awards, and she looks kinda uncomfy in this type of couture. You so know she'd rather be riding a dirt bike in greased-up jeans and a T-shirt than waltzing down a red carpet, but guess attending these types of fancy do's is part of the job.
First of all, this strange dress makes Pinkie appear as though she's turning into a new type of tree with heavily tattooed branches. Plant-esque ain't a good look on anyone. Secondly, Ms. P doesn't have a waist in that thing. This broad babe sure is buff, but femininity she's never excelled at. P shoulda just worn her B-day suit, it surely fits her better than this.
—Additional sass by Becky Bain