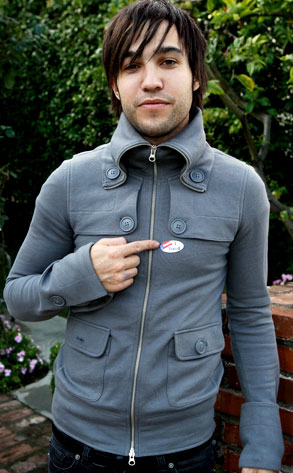 AP Photo/Matt Sayles
Pete Wentz says voters were deceived into voting for Proposition 8, the ballot initiative seeking to overturn California's legalization of gay marriage.
"Many people were intimidated on this issue due to the scary misleading communications on the other side," Wentz said in a statement. "I believe that this is, and has always been, a civil rights issue. We should not allow inequality like this in America."
The race is so close on Prop 8 that state officials have yet to call it. There are an estimated three million absentee and other ballots to be counted.
Ellen DeGeneres has also been a vocal opponent to Prop 8.
DeGeneres, who married girlfriend Portia De Rossi shortly after the state's supreme court ruled in favor of same-sex unions, talked about Prop 8 on her show and with Jay Leno on The Tonight Show. She blogged on her official website to urge voters to reject it, and she even paid for her own public service announcements to run on television.
DeGeneres still has hope that the initiative ultimately will fail. Asked if she'd be making a statement, the talk-show host's rep said she's not talking "until all the absentees and early votes are in."
No word if any celeb supporters will be at tonight's No on 8 rally in West Hollywood.