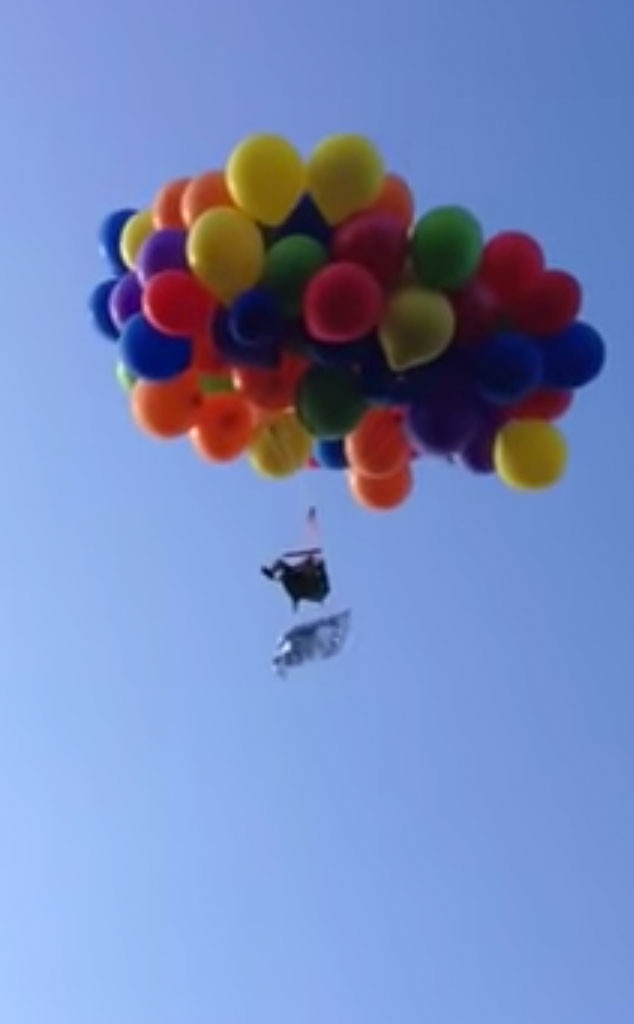 Youtube
Well, someone was clearly very inspired by the movie Up.
While many of us who are fans of the movie only wished of traveling the skies on a chair tied to balloons, Daniel Boria of Calgary, Alberta, made it a reality and pulled one very dangerous (but pretty awesome, let's be real) stunt.
Except now he's facing charges from police. Oops!
Boria was detained by police over the weekend after he was spotted soaring over Calgary in a lawn chair tied to helium balloons in an alleged stunt to promote his company, according to reports.
He tied 110 helium-filled balloons to a $10 green plastic lawn chair purchased at a local Walmart, according to CBCNews and Boria, a skydiver, planned to parachute from his colorful aircraft into the Calgary Stampede, an annual rodeo event, to draw attention to his company.
However the weather worked against Boria, and he ended up landing in an industrial field about a mile away from his target. He was uninjured, and his unique contraption is said to still be flying in the sky somewhere.
Instead of being greeted with cheers and awe, Boria was met with charges from police. He's been charged with one count of mischief causing danger to life and one count for mischief to property under $5,000, and was released Monday morning.