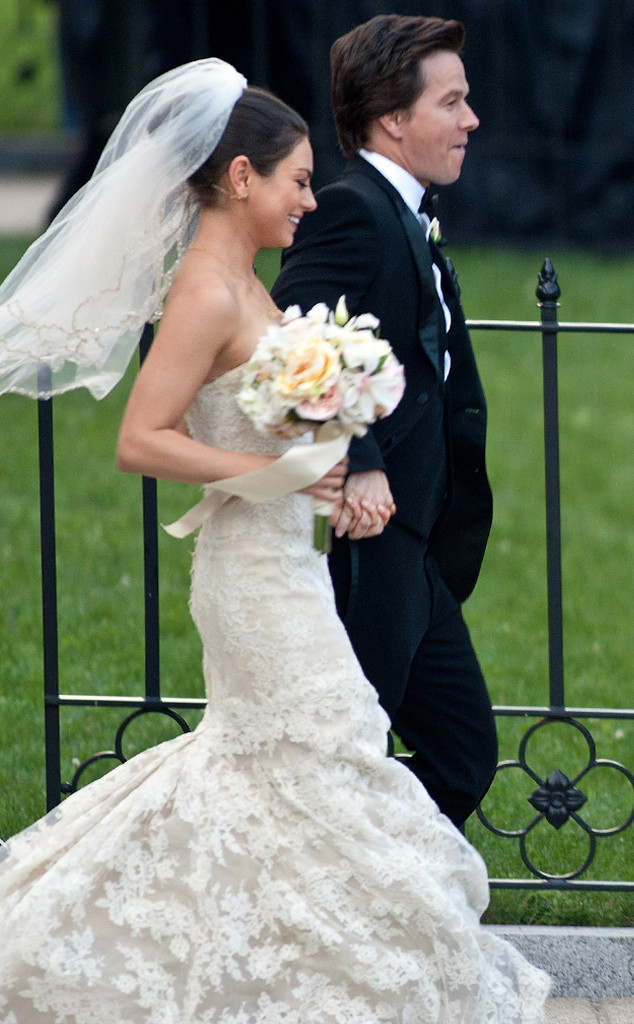 Splash News
Mila Kunis married Ashton Kutcher over the weekend, and while little is known about their wedding at this point, E! News can say with certainty that the 31-year-old actress looks lovely in bridal couture. How can we be so sure? Though this is Kunis' first marriage, it's actually not her first time wearing a white gown.
Just over four years ago, on July 1, 2011, Kunis was spotted on the set of Universal Pictures' Ted in Boston. Lori Collins (Kunis) modeled Monique Lhuillier's "Amelie" gown to marry John Bennett (Mark Wahlberg). The mermaid-style gown featured Alençon-lace and came with a crystal embedded sash.
On May 14, 2012, Kunis was photographed wearing a very different kind of wedding dress while filming Blood Ties with Clive Owen in Brooklyn. For the '70s era crime thriller, Owen's onscreen bride-to-be got gussied up in a gauzy gown. She completed her look with a white flower in her hair and espadrille shoes.
Perhaps Kunis' most eye-catching bridal look came with the release of 2015's Jupiter Ascending. The sci-fi flick's costume designer, Kym Barrett, designed Jupiter Jones' (Kunis) crystal-embellished nude illusion dress, which featured swirling embroidery and large red floral appliqués down the bodice and around the hemline. She created a silver crown with the same scarlet poppies and Swarovski embellishments. "I wait each season for the new set of trends, which inspire me and often plant the seed for a concept in my design process of a key costume element," Barrett told The Swarovski Group of Kunis' "Alive" dress.