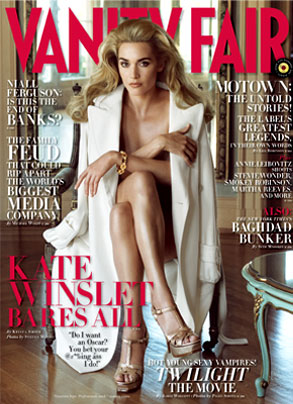 Steven Meisel for Vanity Fair
Kate Winslet is wishing this rumor would just sink like a certain luxury liner.
Several U.K. papers are alleging that the nearly naked pics of the Oscar-nominated English actress inside the new Vanity Fair have been doctored to make her look slimmer, with one, the Daily Mail, going so far as to have a professional airbrush artist actually examine them.
While the 33-year-old does reveal to Vanity Fair she still feels like "the fat kid" sometimes, her rep tells People, "Kate is furious at suggestions that her body has been airbrushed...She is in terrific shape and what you see is how she looks or she would never have agreed to pose for those shots."
Do you think Kate looks like she's had "work done"—and if so, is it even necessary?