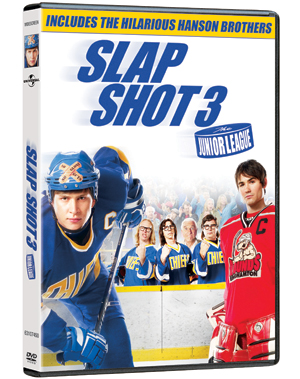 Universal Studios Home Entertainment
This fall the legendary Hanson Brothers will take to the ice in the 3rd movie in the Slap Shot series: Slap Shot 3: The Junior League. The film was shot around Metro Vancouver and features comedy and hockey legends along with a promising young cast.Hunter Elliott has been in the film and television industry since he was a young child,"this is my biggest release so far, and I'm pretty excited."
Vancouver-area actor
Elliott stars in Slap Shot 3 along with Ryan McDonell who also started his career in Vancouver and has recent Battlestar Galactica credits. To go from floating in space to skating on the rink is an exciting step for McDonell. "Getting picked up in a vehicle to go straight to the arena and get paid to play hockey and act - I couldn't ask for a better job." Both are excited beyond words to be a part of this esteemed hockey movie franchise.
Elliott and McDonell were paired up with veterans such as Leslie Neilsen. "When he comes on screen he's got such character to him, he's a hysterically funny man," commented McDonell who also praises Lynda Boyd who plays his mother in the film, "she really makes the movie."
Slap Shot 3 also sees roles and cameos from hockey greats such as Doug Gilmour and Mark Messier.
Speaking to the timelessness of the film, McDonell says Slap Shot 3 will definitely span generations, "I think it's going to draw people who were fans of it in the 70's out to see it with their kids." "It's going to be very well-rounded," added Elliott, noting that it's bound to be have great success. "There are hockey icons, comedy icons, Canadian icons—and just to be a part of that was so amazing."
Slap Shot 3 will be available on DVD November 25th.
GUEST BLOGGER: Rebecca Bollwitt has been blogging about Vancouver since 2004 on Miss604.com, co-hosting two podcasts since 2005 and in 2008 she co-founded sixty4media, a social media consulting firm.