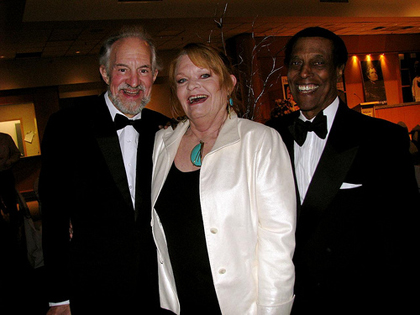 John Bollwitt
Last night in Vancouver the red carpet was rolled out in honor of three individuals that have made profound contributions to the Arts Club Theatre Company, live theatre, and television. The annual fundraising gala for the Arts Club, Glitter, highlighted the careers of Janet Wright, Leon Bibb, and Morris Panych.
Wright is currently known for her role as Emma Leroy on the Canadian comedy series, Corner Gas and has been on various other television programs over the last 40 years. She won a Gemini Award in 2003 for her role in Betrayed, as well as a Genie Award for Best Actress in the film, Bordertown Cafe. Her contribution to the Arts Club is immense, being involved with 36 productions as an actor and director over the years.
Leon Bibb is an original member of the Arts Club cast, having starred in their inaugeral performance back in 1972 as well as in the first performance at the Arts Club Revue Stage in 1983.
The third guest of honor was Morris Panych, renowned playwright and director of 10 Arts Club productions. He has also been the recipient of two Jessie Awards, celebrating the best in Vancouver theatre, for Outstanding Production and Direction.
"This is the first year we've had honorees," noted Nicole McLuckie, Publicist for the Arts Club. "We did it leading up to our 50th anniversary since we all decided 50 years is a long time, and it is definitely about time that we pay tribute to those people who have brought us this far."
The evening was filled with music and laughter, while also serving another purpose; through ticket sales and silent auctions, funds were raised for the Arts Club, which is a non-profit community-driven organization and more specifically to support youth programs. Glitter allowed supporters to gather, enjoy a deluxe dinner prepared by Dino Renaerts, executive chef of Diva at the Me, and simply celebrate 45 successful seasons and many more to come.
GUEST BLOGGER: Rebecca Bollwitt has been blogging about Vancouver since 2004 on Miss604.com, co-hosting two podcasts since 2005 and in 2008 she co-founded sixty4media, a social media consulting firm.