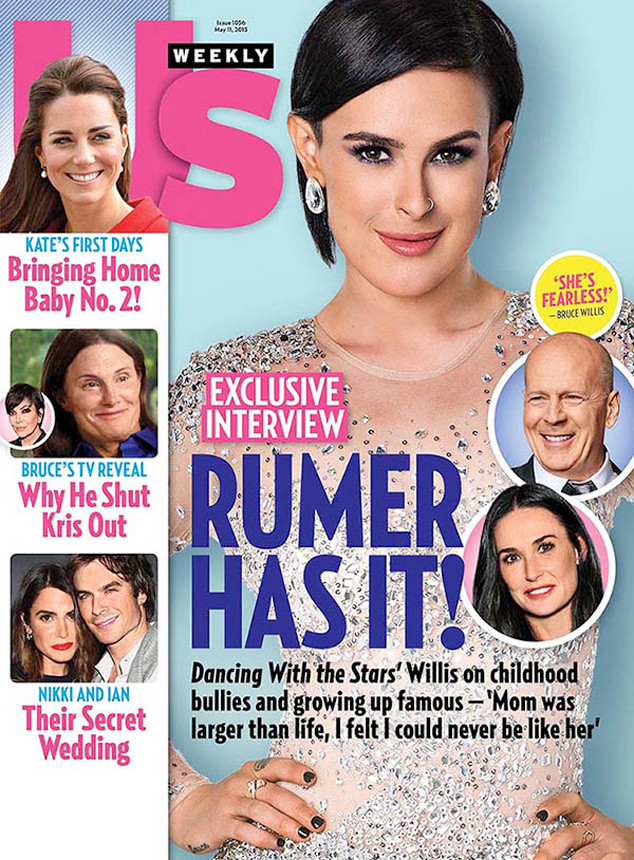 Courtesy US Weekly
It's not easy being the child of a famous parent, let alone two famous parents.
As Rumer Willis explains in Us Weekly's May 11 issue, on newsstands Friday, being Bruce Willis and Demi Moore's eldest daughter hasn't been as dreamy as one might expect. "Growing up, I was kind of a nerd. I had a hard time connecting with my peers. I was very much bullied my entire life. I was just so insecure with who I was that I kept trying to change myself to fit into what I thought everyone wanted."
Rumer's parents ruled the box office for decades, meaning she became famous by association. "When social media started to boom, I was 14 or 15," she recalls. "Every time I went out in public and was photographed, people had something to say about how I looked. The worse things I read were that I looked like a man, or simply that I was ugly. Any time I looked good, a story would say I had plastic surgery. Because God forbid I just looked good being me!"
The Dancing With the Stars competitor tried to ignore the online bullying, which proved to be easier said than done. "You look at an article and go down a rabbit hole, and then you're looking at comments—it's a slippery slope," she explains. "If you read 10 great things and one negative, you focus on the negative."