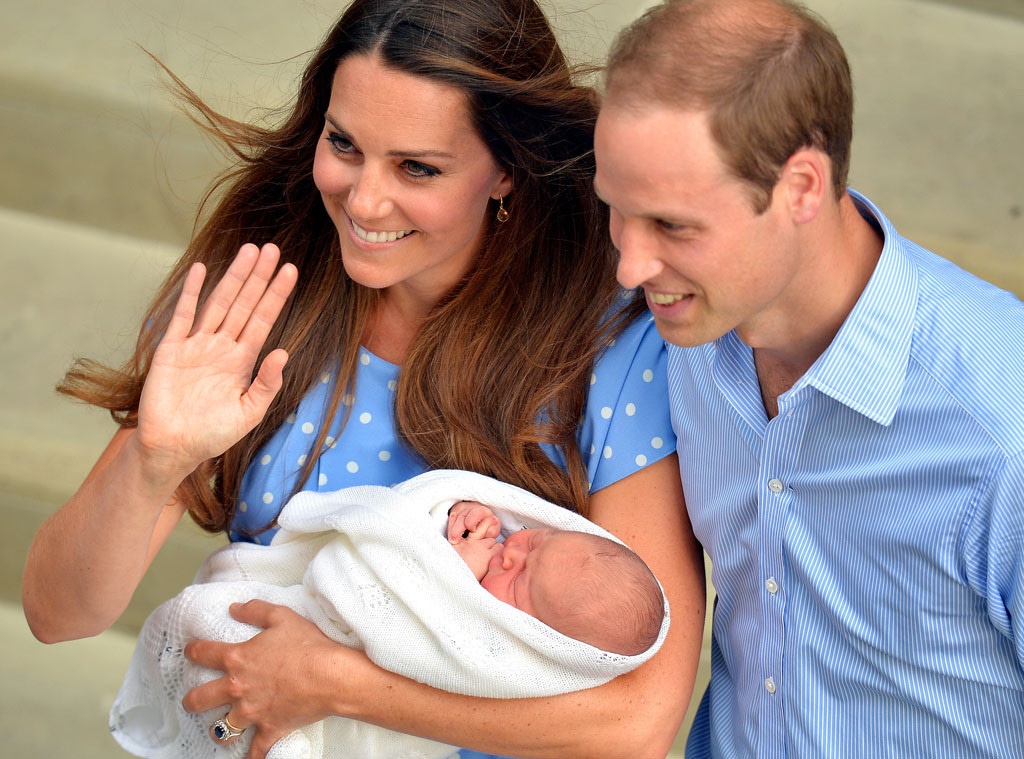 John Stillwell/WPA-Pool/Getty Images
The birth of the second child for Prince William and Kate Middleton is imminent, and if there's one thing we're jealous of, it's the fact that this tiny baby fresh out of the womb will be richer than all of us.
But if it's two things we're jealous of, it's the fact that royalty always get really fancy-sounding names. Take the mom-to-be. Her full royal name is Catherine Elizabeth Mountbatten-Windsor, Duchess of Cambridge. Damn. Isn't that way more impressive than just "Kate"? And the spare heir will also have a regal, majestic name, so yeah, we're a bit envious.
Well, we want everyone to feel as fancy and important as Kate Middleton and her adorable family does on a daily basis, so we created a little royal baby name generator game for everyone.
To start, we need your first and last name, the month you were born and the city you were born in. Got it? Write it down if you can't remember. Also, get an MRI because you clearly have the memory of a goldfish.
We've provided both the male and female versions for the first category, but feel free to disregard your gender and go with whatever name floats your boat!
Ready? Here we go…
First take the first letter of your first name and find out your posh, fancy royal name below, listed as male/female:
A: Alastair/Adamaris
B: Bainbridge/Bryonie
C: Carlisle/Camiseta
D: Daylen/Daphne
E: Easton/Edmonia
F: Fitzhugh/Fonda
G: Garwood/Gaynelle
H: Hadwin/Haven
I: Irwin/Ivory
J: Jennings/Jalyinda
K: Kerwin/Kinsey
L: Langdon/Leighton
M: Mervyn/Marigold
N: Norton/Nichelle
O: Osmond/Odella
P: Paxton/Prunella
Q: Quester/Qiana
R: Ridgewell/Regina
S: Sheffield /Sedona
T: Talfryn/Tynnifer
U: Upton/Ursula
V: Verlin/Voila
W: Wadsworth/Whitley
X: Xavier/Xaviera
Y: Yardley/Yasmine
Z: Zayden/Zola
Next, take the first letter of your last name and find your surname below:
A: Arathorn
B: Bainbridge II
C: Calhoun
D: Devonte
E: Ethelbert
F: Fairbanks
G: Grafton
H: Huxley IV
I: Iverson
J: Jennison
K: Kingston VIII
L: Lawton
M: Mansfield
N: Needingham
O: Oswald II
P: Phineas
Q: Quinsley
R: Remington III
S: Sheffield
T: Thorndike III
U: Umbridge
V: Viscounte
W: Winthrop V
X: Xonuds
Y: Yarnell
Z: Zillowsby IV
Now, you need a title. Find the month you were born in below to see where you rank among royal folk:
January: Emperor/ Empress
February: Grand Prince/Grand Princess
March: Sir/Dame
April: Duke/Duchess
May: Baron/Baroness
June: King/Queen
July: Grand Duke/Grand Duchess
August: Archduke/Archduchess
September: Lord/Lady
October: High King/High Queen
November: Prince/Princess
December: Earl/Countess
Finally, end your name with the city you were born in and voila! You have your extremely fancy, British-y, royal name. For example, if your name is John Smith and you were born in July in Los Angeles, you would be:
Jennings Sheffield VII, Grand Duke of Los Angeles
Doesn't that sound better than just "John Smith"? Enjoy your new name and start using it instead of your boring, given name at work, at home and on legal documents.