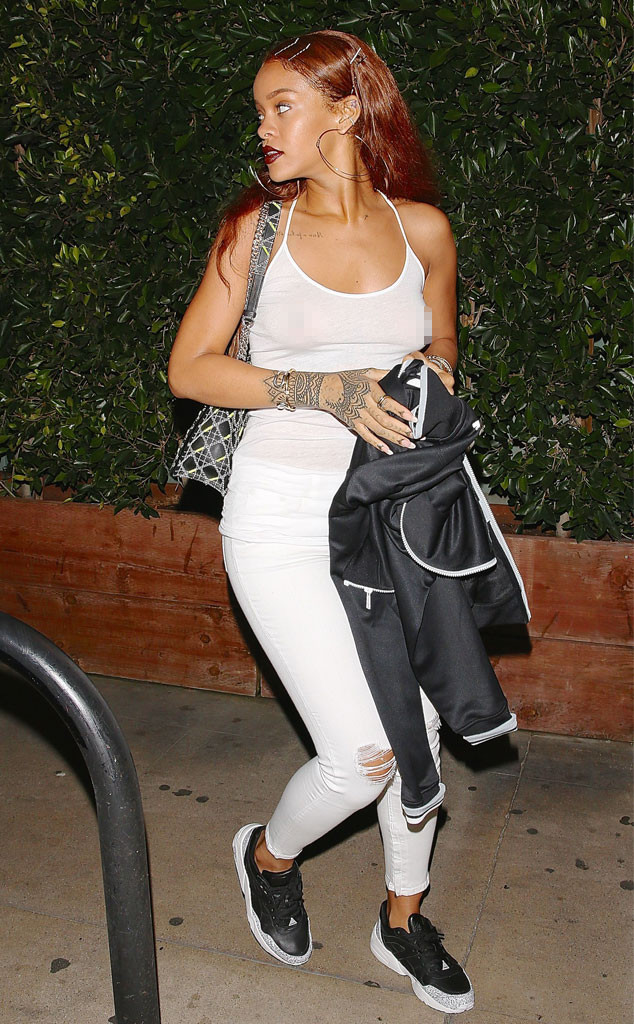 Maciel/X17online.com
Another day, another braless look.
Rihanna went out for dinner Tuesday night at Santa Monica's hotspot Giorgio Baldi and opted for a rather risqué look. No, we're not talking about her new red tresses (although that's a bold look in it of itself), but instead her white, spaghetti-strapped tank top sans bra! Although concealed by her relatively sheer top, RiRi's nipples could be seen through her shirt. That's definitely a brave look for dinner.
But the "We Found Love" singer has been making some bold statements as of late, including wearing purple lipstick to Coachella. The product, which is called Purple Haze from the brand Free Spirit, which is owned by her gal-pal, sold out instantly after she raved about it on Instagram!
"Thank you @leleboo_phucku2 for my new fav color #purplehaze!!! Finally!!! My own BFF has a makeup and I had to wait a whole year to get some!!! #FreeSpirits," she wrote alongside the snap.