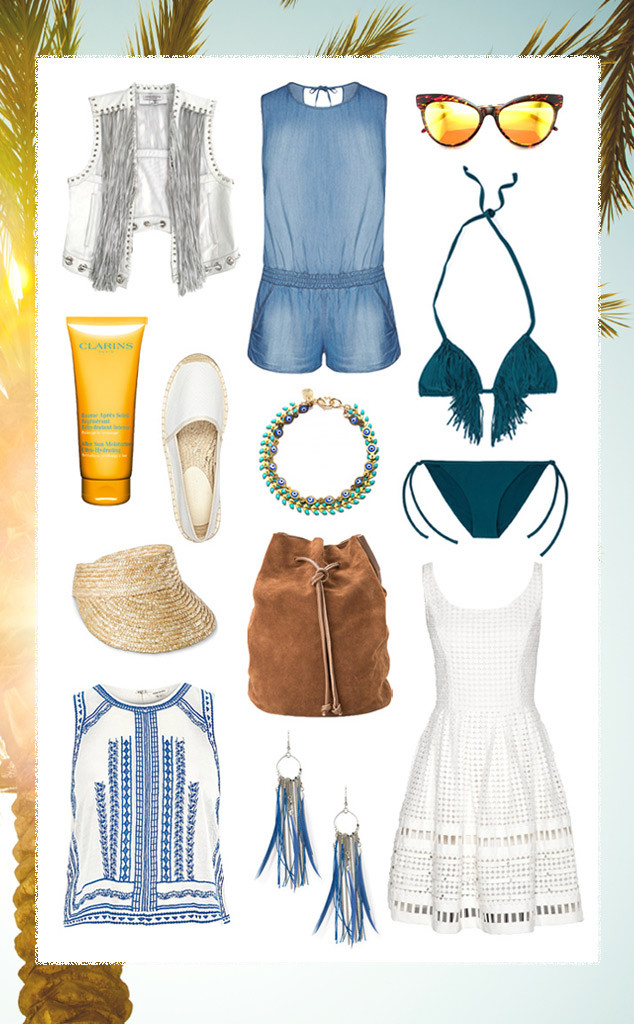 OK, OK: We know by now we've nearly run the gamut of Coachella style recs, but here's just a few more for you night-before shoppers!
And really, these picks are great: From silvery fringe vests to chic denim rompers and carry-all suede rucksacks, we have some great inspiration for you in the 11th hour. (Can't say you weren't prepared!) Some of these are, well, super-practical, too. Did you remember to pack that pair of can't-live-without sunnies? What about after sun moisturizer for the ultra-hot desert? If anything, this is a reminder of all that you need so that you're not left in the Indio dust.
Even better? With indie-chic looks like these, you won't have to worry about looking like a festival tool at all the best Coachella bashes.
Each row from left to right: Lamarque Fringed Vest, $495; Seafolly Denim Playsuit, $122; WildFox Grand Dame Sunglasses, $199; Zara Fringed Bikini Top & Bottoms, $44; Clarins After Sun Moisturizer, $36; River Island White Snake Espadrilles, $36; Capwell + Co Evil Eye Bracelet, $32; Target Straw Visor Hat, $10; Mango Suede Rucksack, $79.99; Sachin & Babi White Dress, $495; River Island Limited Edition Embroidered Tank, $52; Mango Feather Earrings, $20