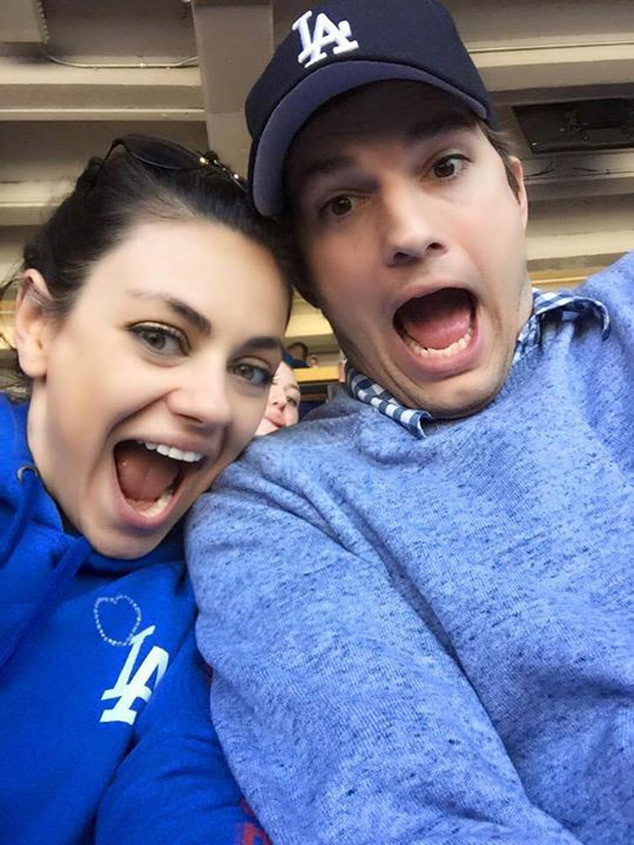 Facebook
Ashton Kutcher and Mila Kunis' expressions are priceless!
The That '70s Show co-stars snapped a selfie after the Los Angeles Dodgers defeated the San Diego Padres 6-3 during opening day at Dodger Stadium. The former Two and a Half Men actor shared the picture with his Facebook friends Monday night, writing, "Love winning on opening day. Go Dodgers!"
In another set of photos, Ashton and Mila took turns photobombing fellow baseball fans Josh Server (of Nickelodeon's All That fame) and Jason Bergenfeld. "Opening day w/ @jasonbergenfeld & our seats were pretty cool," Josh told his Twitter fans. "They were so nice! @aplusk #photobomb #flybys #mila."
Ashton retweeted the photo collage, and Josh added, "[still misses fly by at the bbq]."
It doesn't appear that Ashton and Mila's daughter, Wyatt Isabelle Kutcher, attended the game.
In addition to baseball, Ashton is also obsessed with football.
When Mila appeared on TBS' Conan in February, she joked that Ashton is "molding" their daughter to become "the very first female professional NFL coach, specifically for the Chicago Bears." Just how is he doing that? "By forcing her to watch football every Sunday, Monday night and Thursday night—and no, I'm not kidding, everybody! This child has worn a Chicago bears onesie every Sunday of her life, every Monday night of her life and every Thursday night of her life—and never twice," she told Conan O'Brien.
"She will love football," she said. "She will love football if it's the last thing she does."