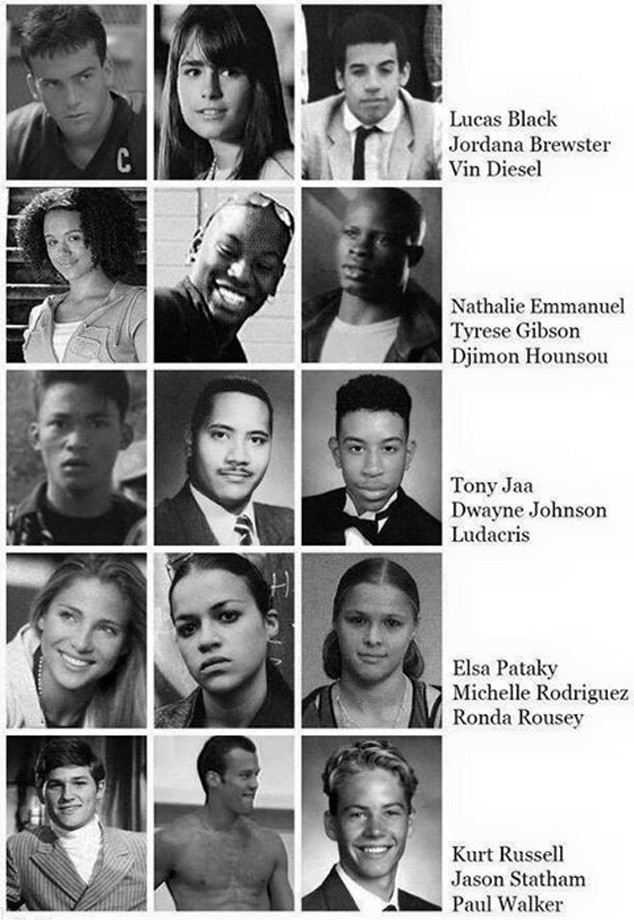 Facebook
It won't take too much effort to conjure this up in your mind because Tyrese Gibson took the hard work out of it!
The Furious 7 star decided to have a little fun on Facebook Thursday when he decided to crop #ThrowbackThursday pics of his fellow cast members in a yearbook style collage. Pretty much everyone is included, but the real stand out stars are Dwayne Johnson, Ludacris, Michelle Rodriguez and Paul Walker, of course.
Walker's picture shows how he seemingly did not age one day from the time he hit puberty to the time he passed away, remaining a hunky, seemingly ageless enigma—who sort of has a Zack Morris, Saved by the Bell, vibe.
Meanwhile both Jason Statham and The Rock have full heads of hair, a sight we haven't seen in quite some time. But seriously, check out Johnson's little mustache. He doesn't seem so intimidating back then.