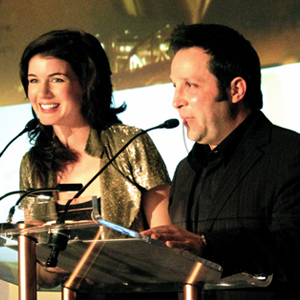 Rebecca Bollwitt
The Academy of Canadian Cinema and Television recently held a reception in Vancouver for 2008 Gemini Award nominees from the West.
The evening was hosted by Gabrielle Miller (of Corner Gas and Robson Arms), along with Ben Ratner (also of Robson Arms as well as Da Vinci's City Hall). Ratner also recently appeared in Vancouver filmmaker Carl Bessai's award-winning film, Mothers & Daughters.
Vancouver's mayor, Sam Sullivan, was in attendance for the crowd that included over 40 of the 100 nominees from this side of the Prairies. The industry stars came out to shine and wish our local nominees the best at the Geminis Awards this November.
Brent Butt, originally from Saskatchewan but now living in Vancouver, is up for Best Comedy Program or Series for the his hit series Corner Gas, which is currently in its last season. The show, that has already won six Gemini Awards, has gained a loyal audience across Canada and also throughout the Midwest of the United States after being picked up on Chicago's WGN along with the Vancouver series Da Vinci's Inquest.
Another audience favourite up for the Best Comedy Program or Series (no matter how cringe-worthy it may be at times) is Kenny vs Spenny, produced by Albertans Noreen Halpern and John Morayniss.
Other hits in the West up for Gemini prizes include Luna: Spirit of the Whale, for efforts in visual effects, and for Best TV Movie, as well as Intelligence with Camille Sullivan and Ian Tracey up for Best Actress and Actor in a Continuing Leading Dramatic Role.
After this evening of local celebration, the main event's the festivities will be getting underway as soon as next week. Gemini season kicks off with the News, Sports and Documentary Gala on October 20th, followed by the Gemini Lifestyle, Children's and Youth Gala on Tuesday, and then the Gemini Drama, Variety and Comedy Gala on Wednesday the 22nd.
The Gemini Awards Gala will take place November 28th in Toronto and airs on E!
Keep checking Eonline.com for all the red carpet highlights to come!