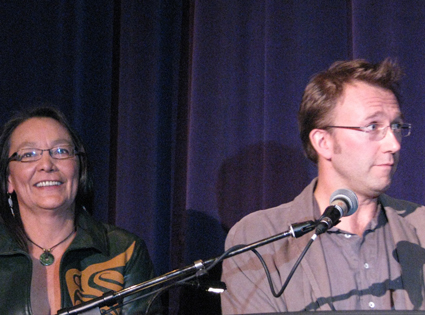 Rebecca Bollwitt
At the 2007 Vancouver International Film Festival, independent filmmaker Carl Bessai took home the "Best Western Canadian Feature" award for Normal. It was highly acclaimed, starring a big Hollywood (and Canadian) name like Carrie-Anne Moss, and also took home a 2008 Leo Award this summer.
He reportedly took what he had earned from winning at the VIFF in 2007 ($12,000 in total), turned around, and created Mothers and Daughters that premiered at this year in Toronto. "Like a good farmer, I thought I'd put that seed back in the ground and see what grows," Bessai told The Georgia Straight.
Bessai is known for being outspoken about Canadian film production, "The movie industry thinks so much in terms of box office and money, it drives me crazy because, of course, that's only part of the picture." [from Only Magazine]. Budgets have not seemed to affect his ability to make captivating pictures, in fact that may even be a part of the appeal.
When I initially interviewed film blogger and podcaster Marina Antunes she said excitedly, "If his name is on it, I'm there to watch it." Obviously she was not alone in her anticipation of Bessai's film as at the VIFF awards ceremony on Friday night, Mothers and Daughters was given the title of "Most Popular Canadian Film".
Not only did it receive this top prize, voted upon by the audience of 140,000 that attended the festival over the last few weeks, Tantoo Cardinall - one of the stars of Mothers and Daughters alongside Babz Chula and Gabrielle Rose, was also given the "Artistic Merit Award" from Women in Film & Television Vancouver.
Closing out the VIFF with a hat-trick of awards, having also won "Best Western Canadian Feature Film" in 2006 for Unnatural & Accidental, audiences across the country can't wait to see what Carl Bessai will grow next.
GUEST BLOGGER: Rebecca Bollwitt has been blogging about Vancouver since 2004 on Miss604.com, co-hosting two podcasts since 2005 and in 2008 she co-founded sixty4media, a social media consulting firm.