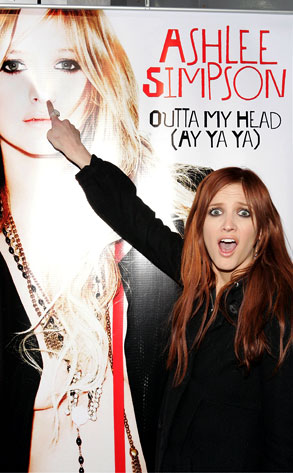 Barry Brecheisen/WireImage.com
One thing's for sure about Ashlee Simpson: she knows how to make fun of herself. Having Jessica Simpson for a big sister and an SNL lip-synching scandal will do that to a girl.

This trait serves her well. Take the song featured on the above poster, the Timbaland-produced "Outta My Head (Ay Ya Ya)." It basically flopped, despite our approval, but it looks like Ashlee will survive and not hide out in Texas under the guise of recording a country album.

Instead, she fixes the problem by picking her nose and releasing a second single. The nose being a figurative one and the single being "Little Miss Obsessive," which premiered yesterday on Chicago's KISS FM DreX Morning Show.

Give it a listen. It's fine, sounds more like her older stuff and will probably be more attractive to radio stations. Maybe now people will be more willing to purchase her album, dropping Apr. 15. Maybe.