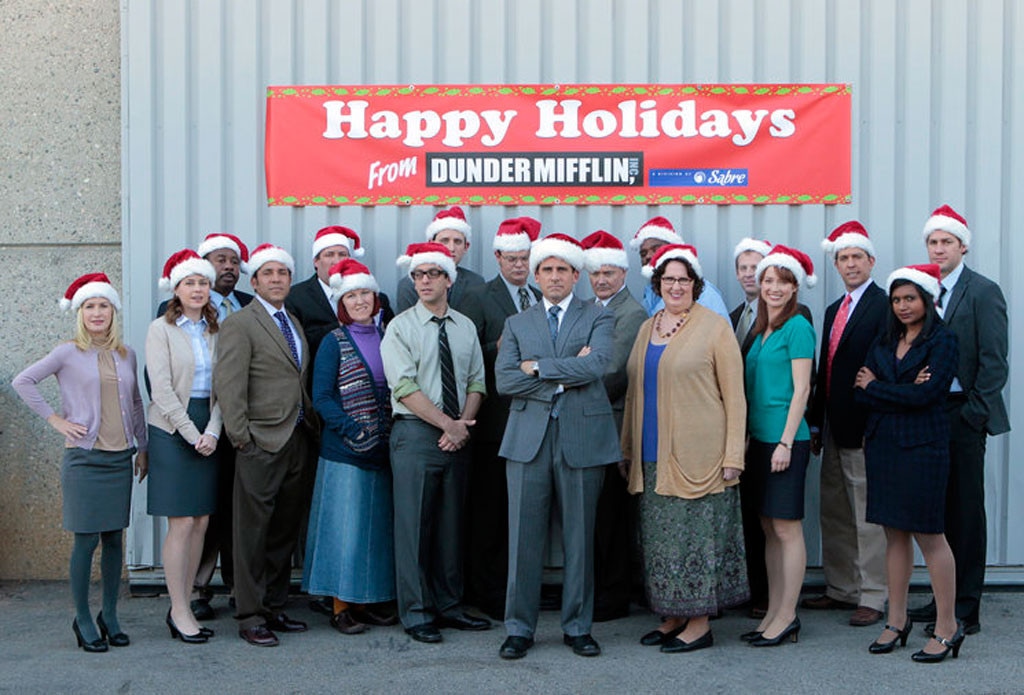 NBC
If Friends was the king of the Thanksgiving episodes, then The Office was the king of the Christmas episodes. The beloved NBC comedy was always at its best when it had a festive outing, probably because it meant the whole office was together, interacting and making things more awkward than ever. Well, we can't just rank the Friends Thanksgiving episodes and not rank The Office Christmas episodes. That's just not fair. So here we go...
Note: There were no Christmas-themed episodes in season one or season four
7. "Christmas Wishes" (Season 8)
We all know The Office just wasn't the same after Steve Carell left. And that was never more clear than when we saw the first holiday episode without Michael Scott. Andy (Ed Helms) was in charge and we were supposed to care about the Erin-Andy relationship (we didn't). The only bright spots were Ellie Kemper playing Drunk Erin and Jim (John Krasinski) and Dwight's (Rainn Wilson) "no prank" war.
6. "Dwight Christmas" (Season 9)
Yep, the other Michael-less Christmas episode is ranked low on the list, but at least it has Dwight as Belsnickel! Jim is ridiculously excited about Dwight's character. This one also gets points for sentimental reasons, as it was the final Dunder Mifflin/Sabre Christmas party.
5. "Moroccan Christmas" (Season 5)
This episode had lots of drama in the club, what with Meredith's (Kate Flannery) intervention and Phyllis (Phyllis Smith) telling everyone about Angela (Angela Kinsey) and Dwight's affair. But the real star of the episode? Princess Unicorn!
4. "Secret Santa" (season 6)
We dare you to watch Kevin (Brian Baumgartner) sitting on Santa Michael's lap and not laugh. You can even see Ed Helms in the background ducking out of frame because he's cracking up. Besides that bit, we find out that Dunder Mifflin is being sold and everyone in the office gets to keep their jobs, which turns the merriment up to 11. Finally, the perfect ending: 12 drummers drumming for Erin, courtesy of her Secret Santa Andy. 
3. "Classy Christmas" (Season 7)
Yes, Holly (Amy Ryan) returning is a big deal and this two-parter is full of great Michael-Holly stuff. But our personal favorite part about this episode is when Jim gets his present from Pam (Jenna Fisher) and he is struck speechless by her homemade Adventures of Jimmy Halpert comic book. Ugh, he loves her so much it makes us crazy. Oh, and then there is Dwight's absolutely diabolical snowball attack on Jim.
2. "A Benihana Christmas" (Season 3)
Season three is one of The Office's strongest seasons, in our humble but usually correct opinion, so this two-part Christmas episode is about as good as it gets. Michael gets dumped by Carol (played by Steve Carell's wife, Nancy Carell), and Pam and Karen (Rashida Jones) team up to battle Angela's party planning committee, though it's sort of heartbreaking to see Pam pal around with Jim's girlfriend. But the best part of this episode? Michael marking his "new girlfriend" with a Sharpie.
1. "Christmas Party" (Season 2)
Two words: Yankee swap! Wait, two more words: the teapot. And the fact that Jim finally gives Pam the card that tells her how he feels in season nine makes this episode that much more special.
Happy Holidays, everyone!