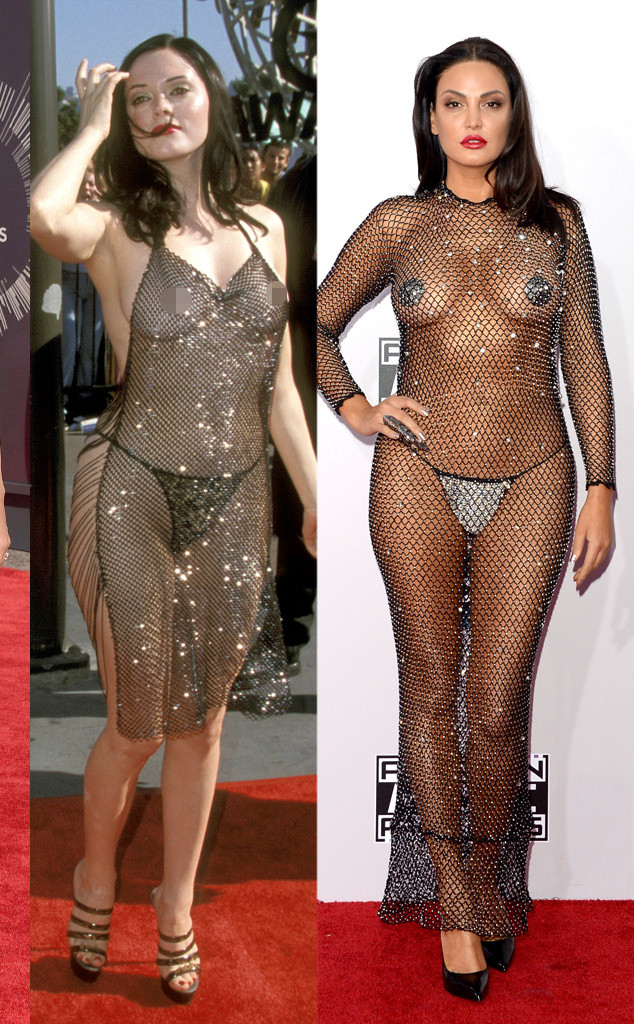 Getty Images
Forget best and worst dressed, guys—we're filing this one in our least dressed category.
Euros of Hollywood star Bleona Qereti took to the 2014 American Music Awards red carpet wearing, well, not much at all. In fact, her sheer-net frock was so body-baring, we couldn't help but think back to Rose McGowan's naked dress at the 1998 MTV Video Music Awards. (Ah, the nineties: A simple time before bare butts became instant Internet memes.)
Bleona, an Albanian singer who stars in the Bravo reality series, showed off her bod in a completely see-through frock and jewel-encrusted thong. And she took a note from Miley Cyrus and Rihanna, of course: Where there are nipples, there must be pasties.
As for her naked dress inspiration—who can forget McGowan's bodacious appearance at the 1998 VMAs alongside then-fiancé Marilyn Manson. Really, Qereti is only one in the line of stars who have channeled McGowan's headline-making look: At the 2014 VMAs, Amber Rose showed up nearly naked, too.