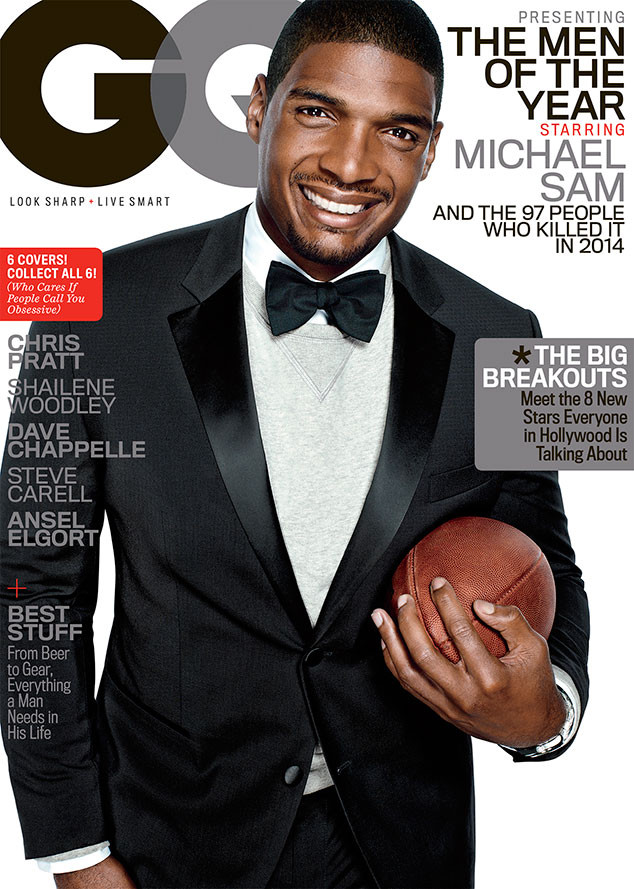 Peggy Sirota/GQ
Michael Sam, who made history this year when he became the first openly gay athlete to be drafted into the NFL, sports a tux, a football and a big smile on the latest cover of GQ magazine, published one month after he was released from the Dallas Cowboys.
In May, the 24-year-old was picked by the St. Louis Rams in the seventh round of the draft. The team released him two months later. In September, he was chosen to join the Dallas Cowboys. He played several games with its practice squad before he was cut from the roster on Oct. 21. He may end up being signed by another team.
Sam is one of six people featured on the cover of GQ's December 2014 "Men of the Year" Issue (The other five are Chris Pratt, The Fault in Our Stars and Divergent actors Shailene Woodley and Ansel Elgort, Steve Carell and comic Dave Chappelle).
GQ features an interview with Sam that was published online Friday. The magazine said the story went to press around the same time the Cowboys released him. Sam, who was born the seventh out of eight siblings and is his parents' youngest son, talks about his decision to come out publicly and about his difficult childhood in Texas, which has been reported in the press before, including his struggles with who he called his "evil" brothers.