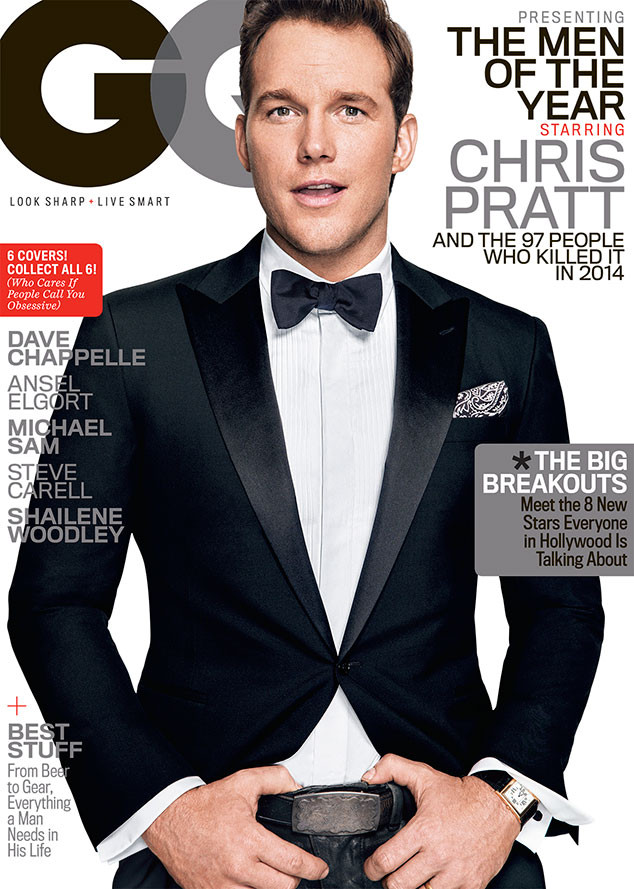 Ben Watts/GQ
To say GQ's Men of the Year list is diverse is an understatement.
The magazine's honorees include veterans Steve Carell and Dave Chappelle, plus newcomers Ansel Elgort and Shailene Woodley. It also features movie star Chris Pratt and football player Michael Sam.
Pratt kicked off 2014 with The Lego Movie, which surpassed industry expectations at the box office. Still, it was his role in Guardians of the Galaxy that confirmed he had leading man appeal. Ironically, most people thought Pratt was too overweight to play Peter Quill/Star-Lord. "I thought it was an insane idea to cast the fat guy from Parks and Rec as the lead of our superhero movie," director James Gunn says. "I didn't really even want to see him." After Pratt's audition, he thought, "Well, hell, he's overweight, but if that means we have the world's first overweight superhero, I'm okay with it." Pratt, 35, didn't see the problem, either. "You can make a talking raccoon that looks real," he argues. "Why can't I just be fat?"
Pratt didn't stay fat for long, though. In fact, he got ripped. "I like the challenge of it," he explains.