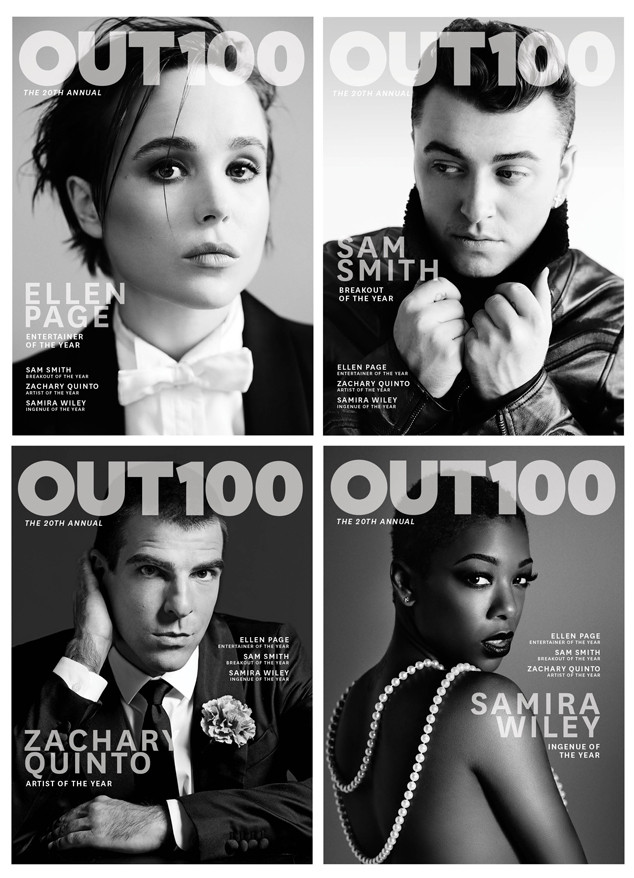 Out Magazine/JUCO
Ellen Page, Zachary Quinto, Sam Smith and Orange Is the New Black star Samira Wiley are covering the 20th anniversary issue of Out magazine's Out100!
In addition to the quadruple cover, each of the four stars is receiving a big honor from the LGBT mag. Page is this year's Entertainer of the Year while Quinto is their Artist of the Year. Sam Smith is the Breakout of the Year and Wiley in the mag's Ingénue of the Year.
In the new issue, Page, who came out on Valentine's Day 2014, opened up about being closeted in Hollywood. "No one's ever been so direct as to say, 'You're gay, so we're gonna hide it.' But there's an unspoken thing going on," she said. "[People] believe it's the right thing to do for your career. They don't realize it's eroding your soul. It was eventually about me being like, 'Wait, why am I listening to that?' At what point did I let those things become important?"