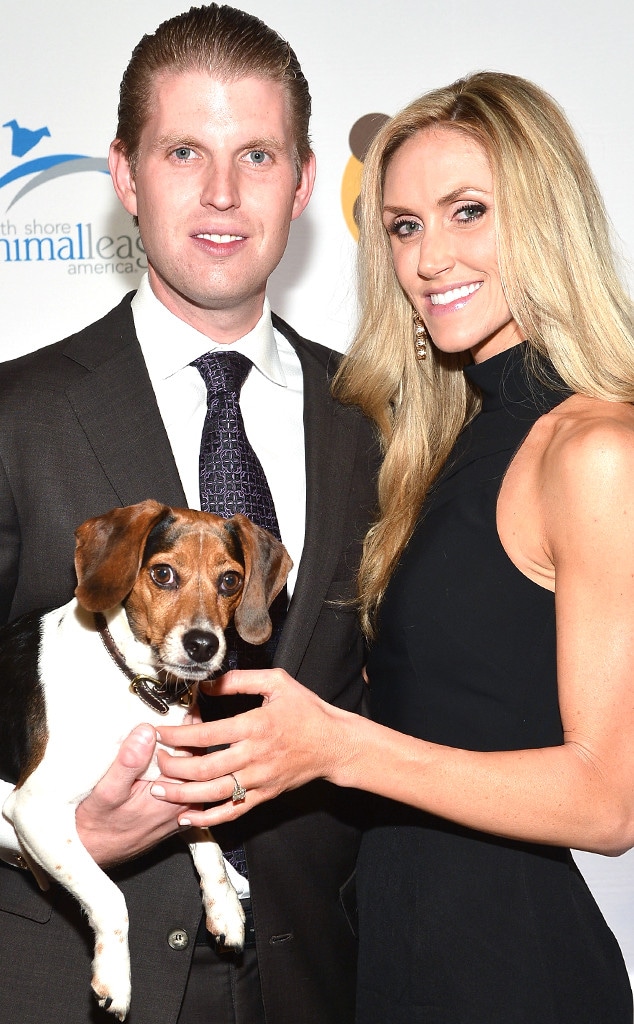 Mike Coppola/Getty Images
Eric Trump, son of real estate mogul Donald Trump and one of his co-stars on NBC's The Apprentice, is a married man!
The 30-year-old groom, the founder of the Eric Trump Foundation, who serves as executive vice president of development and acquisitions for the Trump Organization, married Inside Edition producer Lara Yunaska, 32, in Palm Beach, Florida on Saturday.
The bride wore a strapless, ruffled Vera Wang gown as she and her groom exchanged vows at the Episcopal Church of Bethesda-by-the-Sea, according to People. Eric's dad and stepmother Melania Trump wed there in 2005.
New York City real estate broker Clayton Thomas Orrigo posted on his Instagram page a photo showing Eric and Yunaska walking down an aisle covered by a white runner amid a gorgeous backdrop of palm treats. Other guests included family and friends such as former Real Housewives of New York star Jill Zarin.
Eric's 3-year-old niece Arabella, daughter of his 33-year-old sister Ivanka Trump, served as a flower girl. Ivanka, who like her brother, serves as a boardroom advisor on The Apprentice, posted a photo of her little girl in her wedding attire on her Instagram page.
"I couldn't be happier for my little brother @EricTrump & his beautiful wife-to-be @LaraYunaska," she said on Friday. "I love you both very much! #WeddingWeekend #Love."
Eric's 36-year-old brother Donald Trump Jr., who also appears on The Apprentice, was the best man and gave an "amazing" speech, according to guest Dan Scavino Jr., who works with the groom and the elder Donald, 68.
The real estate mogul himself and Melania, 44, were also in attendance. Melania shared on her Twitter page a photo of herself and her hubby at the wedding.
"From last night," she said on Sunday. "#congratulations Eric & Lara."
The reception was held at the Mar-A-Lago estate, owned by Eric's dad.
The wedding took place weeks after the bride broke both of her wrists in a horse riding accident.
"There are inherent risks that we all take in life," she said on her Instagram last month. When you truly love something, it's worth it. I wouldn't take back one day of riding -- stuff happens. I will ride again and it will be better than ever. Most importantly, I still get to marry the love of my life on Nov 8th!"
Eric is of one of the elder Donald's five children and his mother is the real estate mogul's ex-wife, Ivana Trump. The two are also parents to Ivanka and Donald Jr.
The elder Donald and his second ex-wife, Marla Maples, are parents to 21-year-old daughter Tiffany Trump (pictured below), while he and current his wife share an 8-year-old son, Barron Trump.
Eric and his bride got engaged on July 4, 2013. He proposed with a massive emerald cut diamond platinum ring with side stoles from one of sister Ivanka's jewelry collections.
The two live in New York with their dog, Charlie, who also played an important part in their wedding.