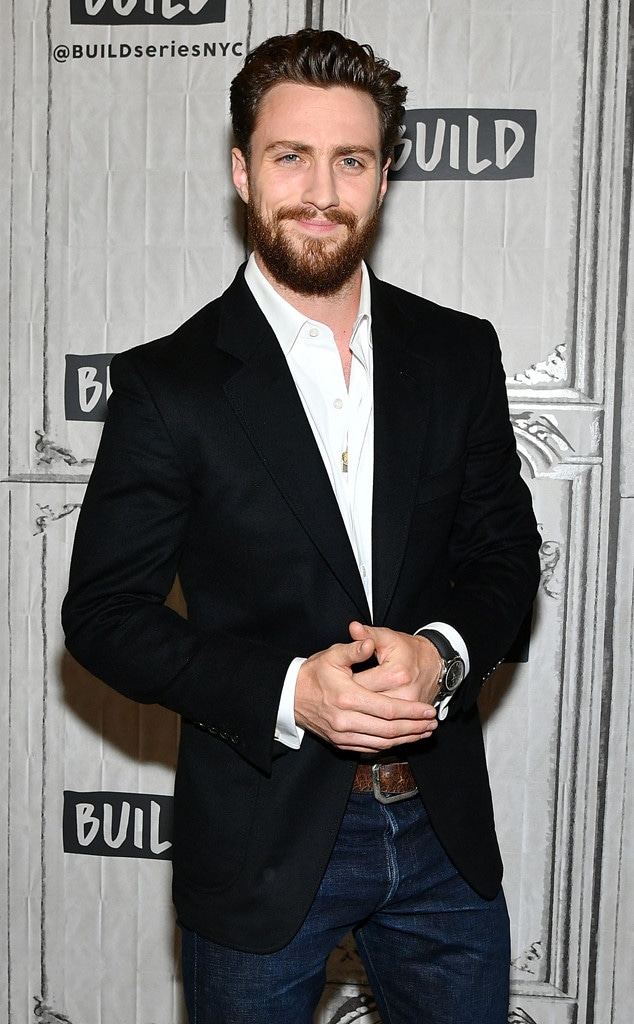 Slaven Vlasic/Getty Images
Aaron Taylor-Johnson could've scored a private audition with Fifty Shades of Grey director Sam Taylor-Johnson. After all, the actor and the filmmaker have been married since June 2012. So why didn't Aaron try out for the role of Christian Grey, the wealthy entrepreneur with a BDSM fetish?
"I think it would have been the wrong kind of hype to bring toward us," the 23-year-old says in Nylon Guys' May 2014 issue. "It would have been kind of funny that this character that all these women fancy—he's one in a million—and my wife picks her husband to play the part? I would love to have done something together again, but it wouldn't have been Fifty. We were both on the same page."
Unlike the main characters, he assures the magazine, "We don't have a Red Room at home."
Has Aaron at least read the book? "No, I did not," he admits. "I'll watch the movie, though!"
Of course, it's not like he's hurting for work. Aaron next appears in Godzilla, and the actor is currently shooting The Avengers: Age of Ultron with Elizabeth Olsen, who plays his wife in the former film.
It's hard to believe that just eight years ago, the Brit quit school and moved to L.A. to become an actor. "It was a lot of crazy s--t I got up to for a couple years," Taylor-Johnson says of his Hollywood beginnings. "I was pretty self-destructive at one point. I used to smoke 30 [cigarettes] a day, used to f--king drink nonstop. I've always been able to be on the f--king edge—be on the line, but then pull myself back."
Slaven Vlasic/Getty Images
He went to a few auditions a day. "Some interesting movies but a lot of TV. A lot of Nickelodeon bulls--t." During casting director meet-and-greets, he'd walk into the room pretending he was American, only to out himself as a Londoner once the audition was over. "It was kind of like learning how to pull," he explains. "It was like, how do you go into a bar and point out the fittest girl and then just go, 'I'll have her by the end of the night?' I was at that age where that was kind of...I stopped when I met Sam."
These days, you're more likely to find Aaron hanging with his daughters than at the local pub. "I love the f--king music class. I'm the only dad there. It's, like, mums and nannies," says the star, dad to 3-year-old Wylda and 2-year-old Romy (plus 16-year-old Angelica and 8-year-old Jessie, from Sam's prior marriage). "And you're clapping your hands. You're singing more than the kids are."