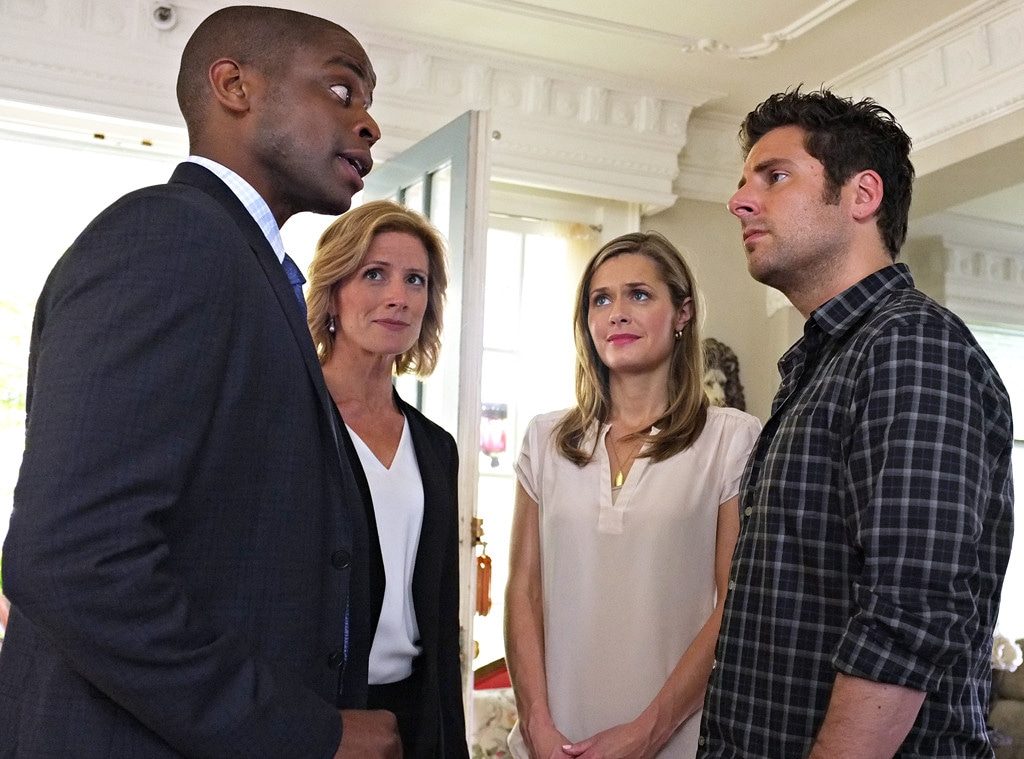 Alan Zenuk/USA Network
It's been a long road, Psychos, but I think we can all agree that there was hardly a more perfect way to end this delicious journey than the Psych finale that aired one week ago today to around two million viewers.
Lassiter was officially settled in with his new family, his new job as Chief of Police, and his new head and junior detectives, Betsy Brannigan and Buzz McNab. Chief Vick and Juliet were also settled into their new jobs as Chief and head detective in San Francisco, to be eventually joined by Shawn and a newly unemployed Gus. Shawn and Juliet (and Gus) got engaged, and we discovered that the previously faceless police department worker Dobson was actually Val Kilmer all along. It was sad, it was happy, and it was beautiful.
Whether the journey is truly over is yet to be seen, though based on Steve Franks' frequent mentions of a potential movie and USA network president Chris McCumber's vaguely encouraging assurance that he "do[esn't] believe we've heard the last of Shawn and Gus," we're thinking no. However, the series has certainly concluded, we talked in-depth with creator Steve Franks all about what it's like to look back (and ahead) on his television dreams come true.
Plus, the cast, including James Roday, Dulé Hill, Maggie Lawson, Corbin Bernsen, Timothy Omundson, Kirsten Nelson and Kurt Fuller, as well as Franks, gathered after the live "After Pshow" for one last bit of reflection on what was occasionally the strangest, most nostalgia-filled comedy on television.
E! Online: When did you know how the show was going to end?
Steve Franks: It wasn't until I wrote it...We know we were going to be in our last year, and then I had to start writing it, and I didn't realize just how challenging writing a finale was going to be...I started watching other shows' finales to see how they did it, and I realized I didn't really like any of them. They felt different from the show I remember, and it just became such a daunting task, and I didn't want it to be a downer, and I wanted it to feel like a regular episode.  I wanted it to feel like these characters were going to live on, they were going to be having adventures and doing things, and we were just not seeing them for the time being, until the studio ponies up for a feature film, or something like that.
E! Online: So would that feature film be Shawn and Gus solving crimes in San Francisco?
Steve Franks: It could be that, but most importantly, we could send them to any city...we can play with all of that and them coming into a new environment, because they're such creatures of habit, and it really seemed like a rich sort of thing. Whether we were taking them to Mexico or Canada or London, we've taken them out of their element, so it seemed like a natural progression that this show would become a series of movies, and whether or not anybody is interested in financing that, that's the big question. But am I willing and excited to do it? I'll start this afternoon!
E! Online: Were you at least a little sad to move Shawn and Gus away from Santa Barbara?
Steve Franks: You know, I was. It was one of those things where we had a lot of challenges last season, one of which is that we only had Maggie Lawson for five episodes...when we came up with the plan of we get Juliet out of the picture for a short period of time, the end started to come into focus, and you always see, on great television shows, like The Bachelor, the question of "Are you going to move to my city?" And that seemed like a great thing. I love the idea of the guy moving and putting aside everything in his life to be with the girl that he loves, and that seemed like such a great way to do it.
Obviously I love Santa Barbara. I find it to be an important part of the vibe and tone of the show. You know, I don't think they would last forever in the big city, but our version was never a real Santa Barbara. It was always a weird amalgamation of Vancouver, and for a while, we used to paint out the big snow-capped mountains in the background, and then we just decided to embrace them. The greatest thing in this show is when I meet people from Santa Barbara who actually think we do shoot in Santa Barbara. It's like, do you get out much? We used to carry around this plastic palm tree that was the worst and fakest looking part of each shot. We finally just sort of embraced it and created our own intermediate Santa Barbara, but our fake Santa Barbara will always hold a special place in my heart.
E! Online: So was that a deliberate Monk reference at the end there?
Steve Franks:  Oh, yes. The funny thing is, we owe such a debt of gratitude to Andy Breckman, who created Monk, and Monk as a show for sort of being the sort of comfortable hammock that sort of launched us. Andy Breckman especially was the first – the first day we got the pilot picked up, he called me and gave me like fifteen pieces of advice which are the best advice I've ever gotten in this business. So many things that I learned that came into play throughout this process were things that Andy had helped me so kindly and without even being solicited, he gave me such great advice. So for us to send our show off into the ether where eight years is the same amount of years that Monk was on, it felt like a nice way to say that somewhere, these two worlds collided.
E! Online: There are a lot of theories that they took place in the same universe, so I think people really appreciated the nod.
Steve Franks: Exactly. For a little while, our networks thought when we pitched the show, oh this show is just like Monk. ... It was nice that we kind of started together and split apart and went off to do things like Twin Peaks and Indiana Jones episodes, and vampires and werewolves and all the things we did over the years, but at the end, it sort of veers back and makes a complete circle, and that was something I was really interested in finding is some way to go back to the pilot and answer the questions that were raised in the pilot and create a new sort of beginning.
E! Online: There are a lot of theories that they took place in the same universe, so I think people really appreciated the nod.
Steve Franks: Exactly. For a little while, our networks thought when we pitched the show, oh this show is just like Monk. ... It was nice that we kind of started together and split apart and went off to do things like Twin Peaks and Indiana Jones episodes, and vampires and werewolves and all the things we did over the years, but at the end, it sort of veers back and makes a complete circle, and that was something I was really interested in finding is some way to go back to the pilot and answer the questions that were raised in the pilot and create a new sort of beginning.
E! Online: What was it like to show off the musical at Comic-Con?
Steve Franks: The saddest thing about that night is that they wanted us to go introduce the show, so we did it in a couple of theaters and they drove us all down there, and then they rolled it in each theater, and then when were done, I was so excited to go sit down and watch it with an audience, and then the car was immediately leaving and I was like, wait, I wanna watch it! So I snuck away and watched a few minutes of it, but I didn't get to sit there the whole time and see it with a crowd, which is my favorite part, to feel the energy of the audience.
E! Online: Did you guys just feel like rock stars when you arrived in the weiner mobiles?
Steve Franks: It was so cool and yet so perfectly ridiculous that we were riding in a weiner mobile, so it balanced it out, so we really couldn't feel like we were super cool. We really felt like we have amazing fans, and we've embraced this ridiculousness to a point where we can enjoy riding around in a weiner mobile more than any show we can imagine…I couldn't believe how many people were out there. That was pretty cool. Actually you know what, we did feel kind of like rock stars. Never mind.
E! Online: Did you ever struggle with the gravity of murder versus the ridiculous comedy of the show?
Steve Franks: To me, the important thing was that once something dark and terrible happened, then something ridiculous had to immediately happen. So when they stumble onto a dead body, somebody's phone would ring, and some new problem would have to be introduced. We thought we would have these light little crimes, and a network is always interested in stakes and the gravity of a storyline, so we ended up killing someone a couple times an episode, and it was always fun to sort of see how our guys reacted to it. One of my favorite scenes from the entire show is in the final Yang episode, and when Shawn and Gus are tied up and they're going to be killed, and they're arguing about who gets injected first, and who's going to watch the other one die first. It's one of the darkest moments of our show and yet it's one of the funniest scenes...to me, I spend all my time coming up with the world. What world do I want to play in this week? You know, it's like, what's going be fun not only to do, but what's going to be fun to research and scout locations for? And when you work that way, it makes your twelve-hour days a lot easier.
E! Online: What was it like to film the proposal scene?
Maggie Lawson: It was very emotional, as you saw. It was kind of crazy that day, actually...there were a lot of people that knew where we were shooting, and it was such a secretive scene. We had to block off many corners. We had to put many umbrellas up so we could keep it a secret. I don't know if Psychos are that surprised, but it was something we had to do, so we had to get it pretty quick, and we did.
Steve Franks: It was spectactular! And not only that, we had James on one knee. There's no doubt what's going on, and there was a paparazzi guy—we have one, that's it—but he was there from the morning we got there, and I was freaking out. We got the umbrellas out, which never work, and we had the crew members and cast members with like six umbrellas, and this guy doesn't know it. He missed the biggest scoop in the history of Psych because of five umbrellas.
Maggie Lawson: And I kept crying, so makeup had to keep touching up my face, and we were trying to go and go and go.
James Roday: And I had gone into Dulé's trailer and done three shots of bourbon.
Dulé Hill: And I did two, you know me.
E! Online: Did you ever consider shooting indoors?
Timothy Omundson: That's an excellent question.
Steve Franks: In fact, the first draft of it was indoors, and Shawn drops the ring and it falls into the blood from the head of the dead guy...one time it fell into the body, it fell into the guts, and they [the network] were like, "You can't do that." It was always very careful, because we've structured this relationship in such a way that, like if he shows up on a horse and pulls her up, some people are gonna go "Wow, that's awesome," and the rest of them are gonna go "Come on, you changed the tone right at the end." I was freaking out that day. This day was Maggie's last day, and forty-five minutes before that, it was Kirsten's last day, and we were a wreck. If you can take eight years of closure and put it into one afternoon…
E! Online: If you could do one more homage episode, what would it be?
James Roday: I always say porn. It's a half joke, but it's half serious. I think us doing a Boogie Nights episode would have been pretty phenomenal. If we could have figured out a way to sort of surf around the subject matter, I think…I mean, Corbin's Burt Reynolds would have been pretty sweet. Mags as Roller Girl, and you know, Jules' whole thing is that she takes it too far when she goes undercover.
Timothy Omundson: [Lassiter voice] "O'Hara! What the hell are you doing?!"
E! Online: How much of your character was you?
Dulé Hill: I don't know. A lot of [Gus'] nuances come somewhere from inside of me. A lot of his reactions, the way he looks at Shawn and stuff like that. I don't know about the crying. That's more like me and my cousins growing up. A lot of the things I would try to do was the things that I remember growing up with my family that would make me laugh, I would try to work into the character, but I'm not a sympathetic crier at all. I do cry a lot though. I cry at the drop of a dime.
James Roday:  I think when you last as long as we did, which is such an unbelievable blessing, it kind of becomes inevitable that pieces of you start slipping in, because it's not just your job. It becomes your life for seven months out of the year. A lot of the bits we did together to make each other laugh ended up as bits on the show, just because those were the bits that we did, and when the cameras rolled, we just kept doing it. So a lot of the stuff would get born off camera, and then just go on camera, because the lines get blurry after a few years. 
E! Online: What pop culture moment or guest star was closest to your heart?
Dulé Hill: Phylicia Rashad for me. One, because obviously she's Claire Huxtable and all that, but I've known Phylicia growing up in the business, doing theatre in New York, she knows tap dancers and all that, so it's full circle for me…but that was one time in the show, near the end, that it did really touch me emotionally when we sang her out, because I just remember knowing her over the journey of my life and my career, and it was like wow, look how far I've come now where she's actually playing my mom on a TV show that ran eight years.
James Roday: And it was such a touching scene too, because she was eaten by an alien. So we had to get through that, and then we had to sing her out. For me, it was the cast of Twin Peaks.

Maggie Lawson: I was just thinking about it, and I look back, and I feel like William Shatner. That really stands out for me, playing my dad in those scenes. Plus, it's William Shatner, so that's cool.
Kirsten Nelson: He's such a larger-than-life presence in everything that we see, but then when we would cut, he was this wonderful little man, and it was just, you know, "you should probably sit down now, Mr. Shatner." And I think that's still one of my favorite moments when you [Roday] convinced him to do the chest bump, when you're just like "Should we do this?" and he's like "Let's do it!" And I was like, "Oh! You're going to knock him over!"
Dulé Hill: He was so great for telling stories that weren't true. We would all hang onto everything, he'd start telling a story, and we're like "wow, really?" and he's like, "No!"
Corbin Bernsen: I liked having my wife [Amanda Pays], and that was the last time she ever acted, or will ever act.
Steve Franks: Tell her I'm sorry.
Corbin Bernsen: She hates acting now. She was so good!
Timothy Omundson: I can't answer the question. There's too many.
James Roday: That's a cop out.
Dulé Hill: Come on Tim, don't be a Galavant.
Timothy Omundson: Uh, Stephen Lang's just top of the list. There was so many, but Stephen Lang just comes to the top of my head, because I so admire him, and I just think he's a tremendous actor, and to have him come up and just do one scene to play with us, and just the whole experience… We do the scene, and we're like, "By the way, Stephen, you're coming out for a steak with us and you're telling us stories." And he's like, "All right." There's been so many of those people who just come up and would come out with us afterwards and just be a part of it.
Kirsten Nelson: Jane [Lynch]. She was so much fun to play with, and I wanted her to be my best friend.
Maggie Lawson: She was your best friend.
Kirsten Nelson: She was my bestie, and I'm not stalking her or anything right now. Um, but she was a very kind person, and these people come up to Vancouver and they're out of their element in the sense that they're no longer in the U.S., and the scales or whatever fall, and it's really nice to just hang with people regardless of how big they are. They're just friends, they're hanging out with us and playing and that's great.
James Roday: Speaking of taking people out afterwards, nobody parties harder than the WWE superstars. They can just drink like I didn't know people could.
Dulé Hill: They're not WWE superstars for nothing.
James Roday: And we would all try to hang with them, because you know, we were like, "They came all the way to Vancouver, we gotta go out, we gotta hang," and then oh my gosh.
Kurt Fuller: I think [executive producer] Andy Berman did seventeen shots.
James Roday: Yeah, Andy Berman risked his life.
Steve Franks: John Cena would have been indicted in killing Andy Berman.
Dulé Hill: Berman is still drunk from that night.
Timothy Omundson: I want to adjust mine slightly as well—Anthony Michael Hall. To work with Anthony Michael Hall, and to just be in a scene with just he and I, and riffing off this man who, I realized, sort of working with him, he's one of the reasons I became an actor. I memorized everyone of his movies and I would just do it for my friends at the lunch table in junior high, and working with him was really surreal, and thank you for getting him on the show, whoever did that.
Steve Franks: Probably Malcolm McDowell in terms of just being starstruck by somebody. Obviously I had Cary [Elwes] on four times, and I have a special love for that man. He's so fun and great, but Malcolm McDowell was the moment where I think James and I both were in awe. … I'm like, telling Malcolm McDowell where he's gonna stand and what he's gonna say, and he was very serious… He went back to the trailer and he came back, and he was the randiest, dirtiest funniest guy ever from that day forward, right to the end. Seriously, James and I, I don't know how we got work done, because we would yell cut, and he would go to his chair and it was James here and me here, and we would just sit there and just listen and wait for him to talk. It was just great. I'm so grateful for all these things that we've gotten to do.
Timothy Omundson: Kurt, other than getting to work with all of us…?
Kurt Fuller: I'm gonna say Jimmy Cagney. He was good, so natural...oh, you're talking about Psych? I never left the coroner's room. I never worked with anybody but these people really.
E! Online: Mira Sorvino came into the morgue.
Kurt Fuller: Yes, and that was wonderful to work with Mira. Yeah, let's go with Mira. That's all I got.