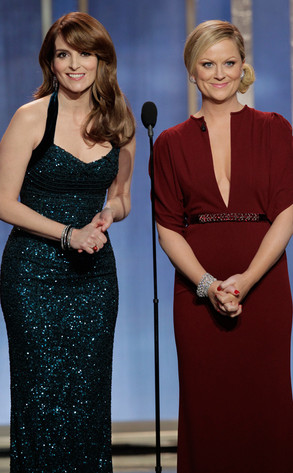 Paul Drinkwater/NBC
The 2014 Golden Globe Awards are just a few days away and hosts Tina Fey and Amy Poehler are offering some drinking game tips for this year's big show!
"Any time you see a gown with sleeves, you're going to drink," Fey joked in a new interview with The Hollywood Reporter. "Any time they cut to Tom Hanks for a reaction shot, do five push-ups and you will be ripped by the end of the ceremony."
Poehler added, "How about this for a drinking game? Every time I drink, everybody at home should drink. And if Bryan Cranston speaks, everybody has to do a little bit of meth. Just a touch, because that's all you need, just a touch."