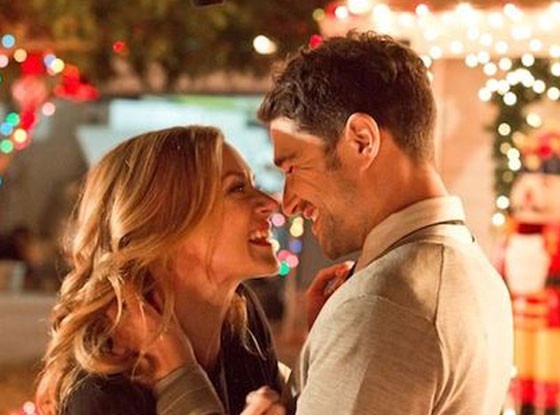 Hallmark
See ya, Halloween! Starbucks has busted out their red cups so that means it's officially holiday season. And you know what else is coming your way: cheesy TV Christmas movies from Lifetime, Hallmark and the like that you can't help but watch.
Are you addicted to the guilty pleasure that is made-for-TV holiday flicks? Let's test your smarts then. We've rounded up five actual synopses from TV movies made for this time of year, and we made up the other five. Can you tell which ones are real and which ones are fake? No cheating and/or Googling. The results are at the end of the post. Here we go!
1. Snow Angels: When global warming hits a small New England town and winter forgets to come, one little girl and her cynical teenage babysitter must work to restore the Christmas spirit before the town's residents forget the holiday…forever.
2. Pete's Christmas: A selfish and greedy young boy named Pete has the worst Christmas Day ever, only to find that he must repeat the day again and again until he gets it right. During his journey, he learns the true meaning of the holiday spirit. 
3. Naughty or Nice: When Krissy Kringle finds the magical "Naughty or Nice" book by accident, the discovery changes her life. After Krissy realizes that the book is magical and will show her all the bad deeds of those around her, Krissy sets out to expose everyone she knows who has been naughty. But Krissy also discovers that the book's powers reveal the nice in people, not just the naughty.
4. Rachel's Gift: It's been six months since the tragic death of Mark's sister Rachel, and his family's first Christmas without her. He soon finds a note from her in his advent calendar, and is joined by his sister's best friend Jamie on a scavenger hunt that will change their lives and entangle their hearts forever.  
5. Eve's Christmas: A wealthy and successful career woman gets a second chance in life when a magical wish transports her back in time eight years to when she walked away from her fiancé to lead a business life in New York.
6. The Minneapolis Miracle: Just before the busy holidays, a high-powered, workaholic business woman named Meredith finds a grocery receipt in the street and is convinced that whoever purchased those items must be her soul mate. After seven lonely Christmases, she's determined to spend this one with the man of her dreams, so she goes on the hunt to find him. As she learns more about this mysterious stranger, she discovers a side of Minneapolis–and herself, that she never knew before. 
7. The Real St. Nick: Kate, a psychiatrist, attends to a handsome but unconscious man in a Santa Claus suit who saved her during an earthquake. When he awakens and insists he is Santa Claus, he is placed in the hospital's psychiatric wing, where his Christmas spirit soon "infects" everyone in the ward and Kate can't help falling for the man even before she finds out his real identity.
8. A Season for Miracles: When a young woman's niece and nephew are threatened with foster care after her sister is hospitalized following yet another overdose, she flees with them until they land in the sleepy town of Bethlehem just before Christmas and a series of kindnesses and coincidences gives the trio a chance at happiness.
9. Hip-Hop Christmas: When Jay and Diana, dancers from two rival New York dance crews, find themselves falling in love, the tension it causes among their respective crews threatens to derail the annual Christmas Dance-Off competition. It's up to the two lovebirds to either break up to restore peace or find a way to unite the crews in order to save the holiday tradition and stay in the running for the badly needed cash prize.
10. The Doll Who Saved Christmas: Jack, a jaded schoolteacher, questions his sanity–and his lack of Christmas spirit, when it seems that one of the dolls in the decorated department store window begins talking to him when he passes by on his way to work each day. He must put aside his skepticism and investigate the dolls' claims of sinister retail practices before the department store sponsors the elementary school's annual Christmas variety show, and ruins the holiday for everyone.
Think you got them figured out? Cool. Ready for the results? Scroll on down past the festive Holiday GIFs for the answers:
1. Snow Angels: FAKE
2. Pete's Christmas: REAL (Hallmark, 2013)
3. Naughty or Nice: REAL (Hallmark, 2012)
4. Rachel's Gift: FAKE
5. Eve's Christmas: REAL (Hallmark, 2004)
6. The Minneapolis Miracle: FAKE
7. The Real St. Nick: REAL (Lifetime, 2012)
8. A Season for Miracles: REAL (Hallmark, 1999)
9. Hip Hop Christmas: FAKE
10. The Doll Who Saved Christmas: FAKE
So how did you do? If you got three or less right, you are a cheesy Christmas novice and you better bone up on your made-for-TV movies. If you got four to seven right, that's pretty good but there is still room for improvement. And if you correctly guessed eight to ten, then go buy yourself a Venti Peppermint Mocha because you are a holiday wizard. Seasons greetings, everyone!