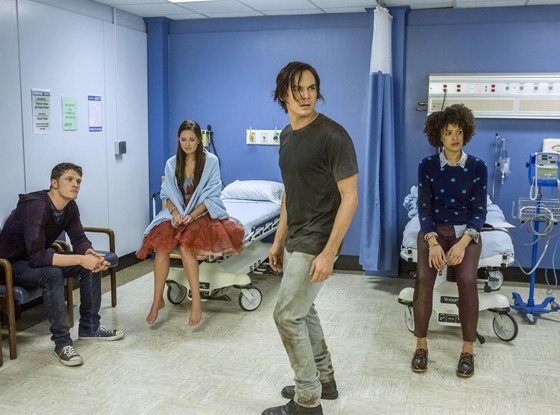 ABC FAMILY/Skip Bolen
Spoiler alert! We're about to dig into the biggest, most jaw-dropping moments from Tuesday night's TV. If you haven't yet watched a particular show and don't want to be spoiled, skip to the next!
Ravenswood: Already an RIP? Damn, Ravenswood! You don't mess around, and we respect that. Tonight, it was revealed that Miranda (Nicole Anderson) did not survive the car accident in last week's episode. One out of five ain't bad, right? Aw, too soon? Also, Caleb (Tyler Blackburn) suddenly gained the ability to see and speak to Miranda's ghost, who warned him ominously that the woman standing in the middle of the road before the wreck had been waiting a long time for them. Creepy.
And was it just us, or did no one seem too broken up about Miranda's death? Too little mourning for our liking.
The X Factor: Did you flip on Fox hoping to see New Girl and The Mindy Project but instead got Simon Cowell in all his v-neck glory? Well, that's because The X Factor had its first live show tonight, and thus, its first live show eliminations.
After the top 16 acts performed, Danie Geimer from the girls, Josh Levi from the boys, James Kenney from the over-25 crew and Roxxy Montana from the group acts are all eliminated.
Sons of Anarchy: There were a few highs and lows in this relatively quiet hour of the FX biker drama. The high? Nero (Jimmy Smits) was cleared of the murder charges and released from prison. The low (that was a literal high)? Jax's (Charlie Hunnam) ex Wendy (Drea DeMatteo) shoots up again after all the pressure from Tara (Maggie Siff) and Gemma's (Katey Sagal) on-going war.
A war, by the way, that Tara is winning as Jax tells Gemma, "You're a sick, twisted bitch. You're never going to see my wife and you will never see those kids again. Grandma is dead." Woah.
Bob Mahoney/The CW -- © 2013 The CW Network, LLC. All rights reserved
The Originals: We finally learned teen witch Davina's (Danielle Campbell) twisted backstory and it basically confirms that witches are the worst! Basically, she and three friends were chosen for a witch ritual that would ensure the coven's powers. Too bad said ritual turned out to be a gruesome, bloody sacrifice. Don't you hate it when that happens?
Seeing himself in Davina, who tries to fight back, Marcel (Charles Michael Davis) saves her at the last minute, but not before she absorbed an insane amount of witchy power from her three sacrificed friends. And this is why all of the witches, including Sophie (Daniella Pineda), are after Davina: If she dies, they believe she and the three girls will be brought back to life and all of her power will be distributed amongst New Orleans' witches; if she lives, all of the witches lose their powers.
The Voice: The knockout rounds continued on NBC's reality competition, and here is how it all turned out:
Team Blake: Ray Boudreaux knocked out EG Daily
Team Christina: Jacquie Lee knocked out Anthony Paul
Team Adam: Preston Pohl knocked out Lina Gaudenzi
Team Cee Lo: Tamara Chauniece knocked out Stephanie Ann Johnson
Steal: Christina snatched up Stephanie Ann Johnson after she was eliminated from Cee Lo's team
.GIF of the Night: Dean (Jensen Ackles) watching Game of Thrones with Sam (Jared Padalecki) and Charlie (Felicia Day), aka the coolest slumber party ever and we weren't invited: