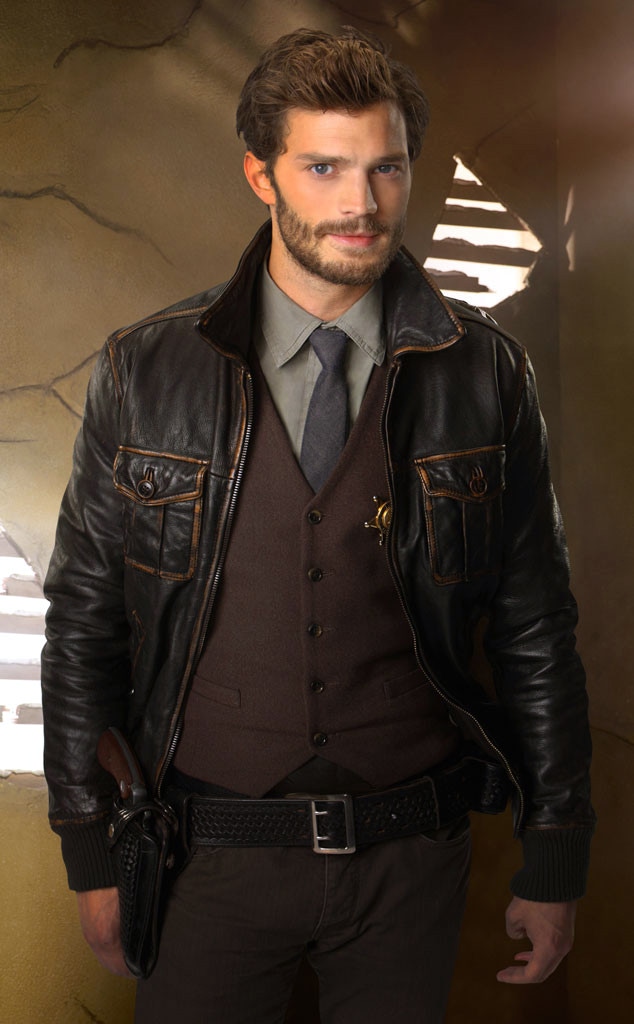 ABC/CRAIG SJODIN/KHAREN HILL
If you believe what you read on the Internet (and you absolutely should) Jamie Dornan is the man who has been tapped to replace Charlie Hunnam in Fifty Shades of Grey after the Sons of Anarchy star unexpectedly dropped out of the film. We hope for once this rumor is true because, well, look at him!
We've had our eye on Dornan since he first appeared on ABC's Once Upon a Time as Sheriff Graham, or as we dubbed him, Hot Hipster Sheriff. And now that the whole world is now Googling his name and ogling his face (the ol' google/ogle habit), we wanted to pay tribute to Dornan's time on Once (because spoiler alert: his character is dead) with a celebration of all his sexy moments. Strap yourself in, there were quite a few. Here is every time Dornan looked fine as hell on Once Upon a Time:
1. That time he looked mildly perplexed while still maintaining perfectly disheveled hair:
2. That time he did whatever he is doing here:
3. That time a single tear rolled down his cheek:
4. That time he laid one on Emma (Jennifer Morrison) and we smashed our faces against the TV screen so we could be part of the moment, too:
5. That time he chose himself over Regina (Lana Parrilla). Independence!
6. That time he cupped Emma's face oh-so-tenderly:
7. That time the camera zoomed in on his heroic handsome face:
8. That time he spoke to a million fans after he was killed off the show. We are still in mourning:
9. That time he got real:
10. That time he got real, part two:
11. That time he walked around like a boss with arrows strapped to his back. The Huntsman hath arrived!
12. That time he did some serious neck nibbling with the evil queen:
13. That time he had zero patience for your tomfoolery:
14. That time he went looking for his heart, which unbeknownst to him was in the hands of his devoted fanbase around the world.
15. That time he died. He even looked hot falling over.