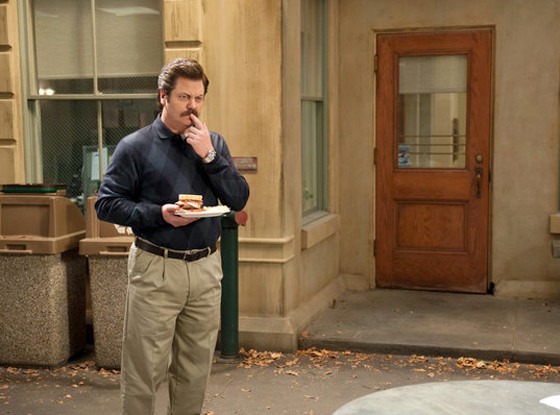 Colleen Hayes/NBC
Ron Swanson (Nick Offerman) doesn't show emotion too often, but when he does, it usually falls under frustration, annoyance, hatred and anger. Oddly enough, those are all the emotions we felt when we discovered that NBC is shelving Parks and Recreation until Nov. 14!
Replacing Parks in the Thursday night time slot this week is a repeat of The Voice, because of course it is. Next week will feature a Saturday Night Live Halloween clip show, and then NBC will put Parks and Rec back on the air for two weeks. After those episodes air, the Pawnee crew will be yoinked off the air for the remainder of 2013, retuning in early 2014. 
This was announced Friday. Why is everyone just noticing? Because the announcement came along with Community's return (yay) and the cancellation of freshman series Ironside and Welcome to the Family. In short: NBC buried the news big-time. But now it's been dug up and people are upset. Don't you know what happens when you touch our stuff, NBC?!
This could mean doom for Parks and Rec, or it could be nothing. We get the idea behind bringing The Voice in that time slot: a high-profile, highly rated show on a failing Thursday-night block could draw viewers. And Parks ratings, while steady, aren't exactly bringing in hordes of people to that comedy lineup. But we can't help but wonder why they would make the best comedy on the network (hell, one of the best on TV, in our humble opinion), disappear like that. Usually when it's the end of the game and you are down by six and it's fourth and long, you don't take out Peyton Manning. Parks and Recreation is NBC's Peyton Manning. There, we said it. 
Anyway, here is Ron Swanson reacting to the news:
We wish we could, Ron. But it's true. Parks and Rec is on hiatus.
We're glaring at NBC, too.
The anger is palpable.
Literally, eveything is the worst right now.
Aiming at The Voice coaches, eh? It's not their fault. Or is it?!
Ours too, Ron. Ours too.
Bonus Round: The rest of the Parks' characters showing their feelings about being bumped:
(E! and NBC are both part of the NBCUniversal family.)
Let's complain/mourn together in the comments. Unless you're happy about this move, in which case, get the hell out!