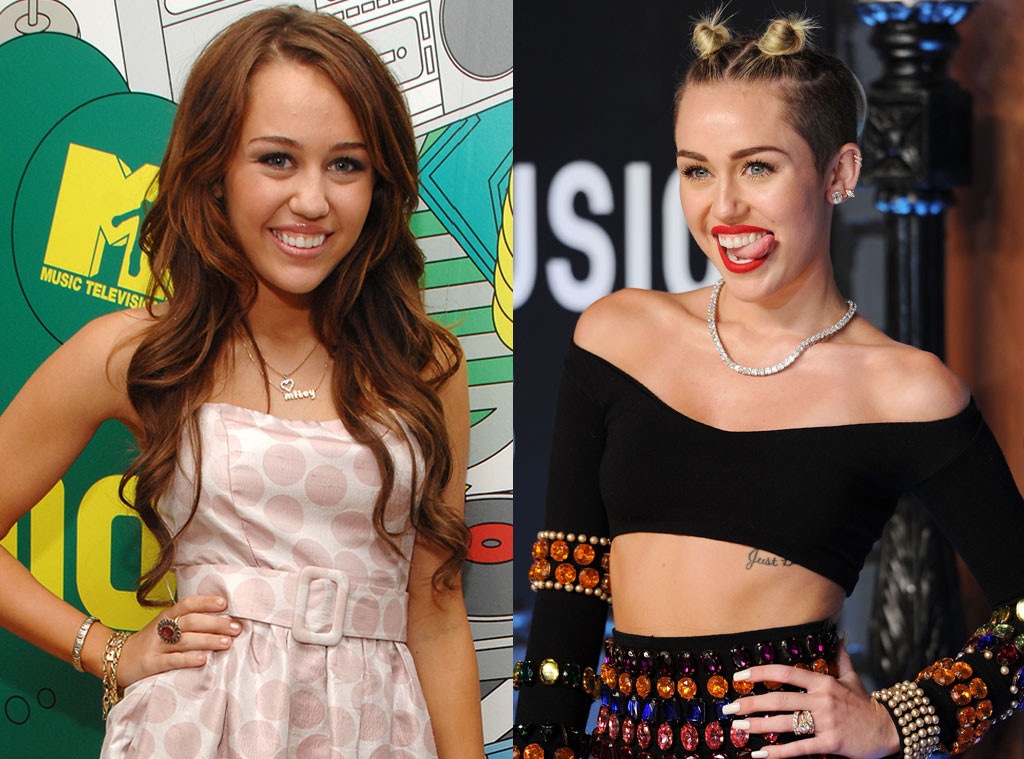 Peter Kramer/AP Photo, Dimitrios Kambouris/WireImage
In case you've been living under a rock for the past two days, Miley Cyrus shocked the world Sunday with her scandalous performance at the MTV Video Music Awards.
Actually, shocked is even an understatement, considering Lady Gaga stripped down to a bra and thong onstage and no one seemed to really care (except for the Parent Television Counsel, of course!) because everyone couldn't stop buzzing about, tweeting about and sharing their OMG-reaction to Cyrus' scandalous booty-shakin' show. 
Despite Miley twerking like there's no tomorrow, unleashing some serious tongue action, stripping down to flesh-colored undies and grinding up against 36-year-old Robin Thicke onstage, a source close to Camp Cyrus insists "everyone is overreacting," noting that "pretty much everything on stage...we've seen Miley do in the video [for "We Can't Stop"]."
Solid point. So when did the former Disney darling go from squeaky clean star to scandalous songbird? Let's take a look back at Miley's biggest controversies over the years:
June 2008: Vanity Fair Cover At the age of 15, the pop star appeared in the June issue of Vanity Fair magazine, posing with her back fully exposed while wrapped up what appeared to be a satin bedsheet. The "Can't Be Tamed" singer received an endless amount of backlash for the provocative spread, which was shot by famed photographer Annie Leibovitz, with some claiming the photoshoot even threatened Disney's Hannah Montana franchise. After the criticism, the young star apologized for the shoot, which also featured photos with her father Billy Ray Cyrus. "I took part in a photo shoot that was supposed to be 'artistic' and now, seeing the photographs and reading the story, I feel so embarrassed," she said. "I never intended for any of this to happen and I apologize to my fans who I care so deeply about." Gary Marsh, the president of entertainment for Disney Channel Worldwide, was also quoted saying, "For Miley Cyrus to be a 'good girl' is now a business decision for her. Parents have invested in her a godliness. If she violates that trust, she won't get it back."
July 2008: Miley Gets Hacked Fresh off the heels of her Vanity Fair spread, a series of racy photos of the singer hit the web after Cyrus' phone was hacked. The pics, which featured Miley soaking off in a shower and bearing her midriff, were reportedly intended for then-boyfriend Nick Jonas. Of course, fans of the then-15-year-old were outraged as the whole world got its first glimpse at Miley's naughty side.
February 2009: Making Faces The sassy starlet came under fire after a photo surfaced where the singer seemed to be mocking Asians by pulling the skin back from her eyes while posing with a group of pals. She later issued a statement apologizing for the controversial pic while also slamming the media for its portrayal of her persona. "I've also been told there are some people upset about some pictures taken of me with friends making goofy faces! Well, I'm sorry if those people looked at those pics and took them wrong and out of context," she said. "In NO way was I making fun of any ethnicity! I was simply making a goofy face. When did that become newsworthy? It seems someone is trying to make something out of nothing to me. If that would of been anyone else, it would of been overlooked! I definitely feel like the press is trying to make me out as the new 'BAD GIRL'!"
August 2009: Pole Dancing at the TCAs Perhaps she was foreshadowing her VMA show? The then 16-year-old star took the stripper pole for a spin during her performance of "Party in the USA" at the Teen Choice Awards. Despite the unfavorable reaction to the eyebrow-raising routine, Cyrus father told Access Hollywood, "You know what? I just think that Miley loves entertaining people." Some things never change.
June 2010: Can't Be Tamed The evolution of Miley Cyrus was officially well underway after the singer released her single "Can't Be Tamed." The edgy video featured Miley transforming into a rare species of wild pop star bird that can't be caged. "I think it definitely shows a change of what people remember me as, but it's not trying to not be me," she told MTV News of the coming-of-age clip. "The lighting is different, the outfit may be different, but what you see in me is the same since I was 11-years-old on Hannah Montana."
December 2010: Salvia Scandal Cyrus made headlines after a video of the star allegedly taking a bong hit and subsequently having what she described as "a little bit of a bad trip" appeared on the web around the time of Miley's 18th birthday. While Camp Cyrus claimed the substance she was inhaling was salvia (a legal hallucinogen in the state of California), Miley still issued an apology for the viral video, which was reportedly leaked by her pal. "I'm not perfect...I made a mistake...I'm disappointed in myself for disappointing my fans," she told Marie Claire magazine.
January 2012: Penis Party The singer surprised fiancé Liam Hemsworth with an X-rated treat for his birthday: a cake shaped like a penis. While the racy cake was most likely a lighthearted joke in honor of Miley's man, the actress apparently felt the need to pose with the penis-shaped treat a number of times with various angles. Of course, the suggestive pics were splashed all over TMZ.
September 2012: The Big Chop The "We Can't Stop" singer shocked the world (again) when she chopped off her famous locks, opting for an edgy supershort 'do, which created an endless amount of criticism. The pop star's fashion also underwent an extreme transformation after her famous haircut, but she continues to defend her new look. "I'm going to change, I'm going to be different, I'm going to do what I want to do," she later told V magazine in a racy spread. "I chopped my hair and bought a pair of Docs and never looked back." And she's made no secret of the fact that her edgy style is here to stay: "You can just mix white trash and Chanel, that's me," she told MTV. "That's my ultimate look."
June 2013: "We Can't Stop" Music Video Miley fully unveiled her scandalous side when she released the video for her single "We Can't Stop." The mind-blowing music video features the singer twerking with teddy bears, shaking her butt for the camera and spanking her pals' rear-ends, all while sporting equally-shocking attire. Safe to say the gal's grown up.
August 2013: VMA Performance Need we say more? Let's all have a moment of silence in honor of Cyrus' long-gone Disney image.