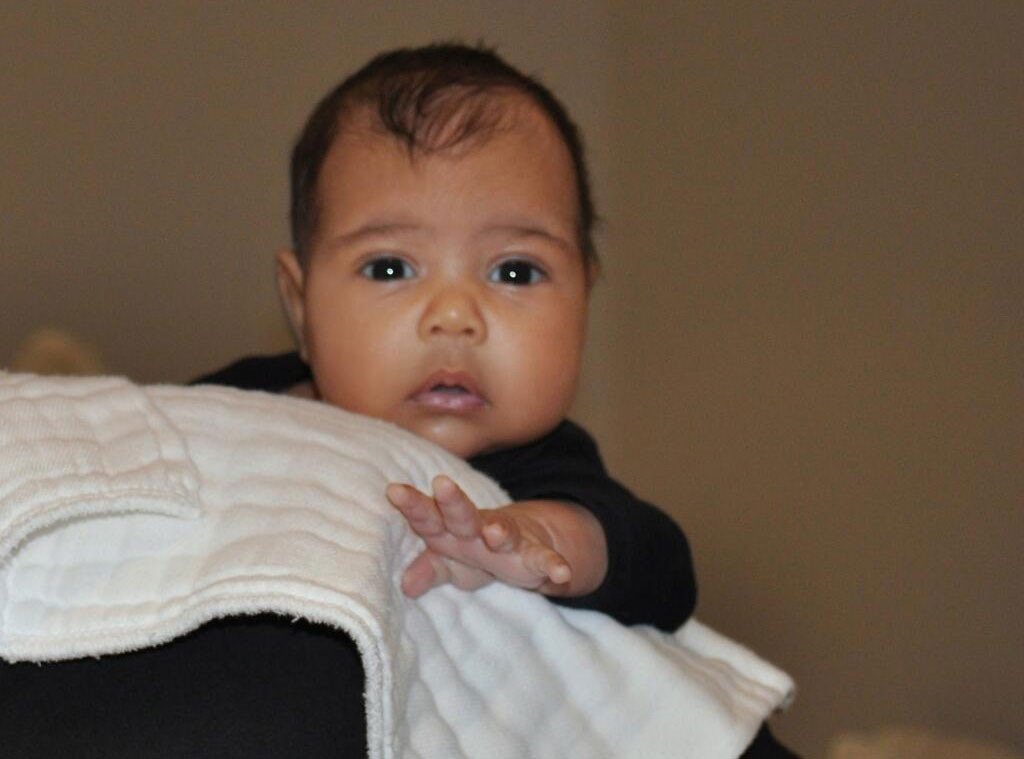 Finally—the first photo of baby North West!
Little Nori made her long awaited debut this morning on Kris Jenner's talk show, where proud parent Kanye West gushed over his two favorite gals: baby mama Kim Kardashian and his adorable 2-month-old daughter.
But Kimye's bundle of joy certainly isn't the first celeb baby we couldn't wait to see (although we were undoubtedly overjoyed to get a glimpse of that sweet face)!
Here are six more highly anticipated celeb baby debuts—prepare to be killed with cuteness:
1. Suri Cruise: Like many celeb parents, Tom Cruise and Katie Holmes chose to reveal their daughter on the cover of a magazine. But unlike other star couples, the twosome opted for a 22-page spread in Vanity Fair, shot by famed photographer Annie Leibovitz. The iconic cover—which featured the now divorced duo's daughter wrapped up in Tom's leather jacket while Katie lovingly looks on at her hubby and child—hit newsstands in October 2006, six months after Suri was born. TomKat later married in November 2006, before calling it quits in 2012 after five years of marriage. But despite their divorce, the now 7-year-old Suri continues to be one of the most talked about—and photographed—celeb kiddies today.

2. Shiloh Jolie-Pitt: The world couldn't wait for a glimpse of Angelina Jolie and Brad Pitt first biological child. In an attempt to steer clear of the prying paps, the parents traveled to Namibia for their daughter's birth, which occurred on May 27, 2006. People magazine later paid a reported $4.1 million for the first photo of Shiloh, who made her debut on the cover of the mag June 19, 2006. And in true Jolie-Pitt, fashion the proceeds from the pics were donated to charities serving African children.
AP Photo/Kirsty Wigglesworth
3. Prince George: Can you believe the future King of England is already 1 month old?! It feels like yesterday when we waited with bated breath for Prince William and Kate Middleton to debut their son on the steps of St. Mary's Hospital. The royal couple took part in a tradition that has been going on for ages. In fact, Princess Diana and Prince Charles showed off newborn William on the same exact steps in June 1982. Of course, little Georgie was just as adorable as we all expected, and the fact that Kate wore a polka-dot dress just like Diana did 31 years ago made the momentous moment even more special.

4. Blue Ivy Carter: The world still goes crazy for every sighting of Jay Z and Beyoncé's only child, who was born on January 7, 2012. Queen Bey stole the spotlight at the 2011 MTV VMAs where she famously announced her pregnancy during her performance of "Love on Top," telling the audience, "I want you to feel the love that's growing inside of me," before unbuttoning her jacket to proudly unveil her baby bump. The notoriously private pair created a Tumblr page to debut the first pics of their adorable daughter just one month after Bey gave birth. "We welcome you to share in our joy," the handwritten note on the website read. "Thank you for respecting our privacy during this beautiful time in our lives," signed "The Carter Family." Awww. 
5. Moroccan and Monroe Cannon: Of course Dem Babies deserve a shout-out! Mariah Carey and Nick Cannon welcomed twins Moroccan and Monroe on April 30, 2011—the couple's third wedding anniversary. "My wife just gave me the most incredible anniversary gift ever in life!" Cannon tweeted after the arrival of their little ones. "I won't ever be able to top this!" The over-the-top twosome later debuted their then 6-month-old twins during a 20/20 segment with Barbara Walters. The mother of two, who gave birth at age 41, also revealed in the interview that she'd suffered a miscarriage before, adding that she used in vitro fertilization and acupuncture to help her conceive Roc and Roe. And today, the proud parents continue to post precious pics of their kids on their family website, dembabies.com, much to our delight!
6. Harper Beckham: David and Victoria Beckham opted to debut their only daughter in a very modern way: on social media. The ridiculously good-looking parents took turns posting photos of each other with their 1-week old daughter on their Twitter and Facebook accounts. The soccer stud snapped a shot of his wife and daughter catching some zzz's, captioning the pic, "I took this picture of my two girls sleeping," while the fashion designer shared a precious photo of David snuggling with his daughter, writing, "Daddy's little girl!" Too stinking cute.
Do you have a favorite celeb baby debut? Tell us in the comments!