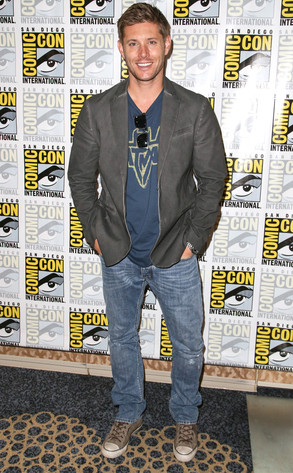 Chelsea Lauren/WireImage
Hey, Warner Bros., no need to begin a casting search for your Batman/Superman movie you announced at your Comic-Con panel, we've got you covered.
Yes, geeks are already foaming at the mouth for any news on the Man of Steel follow-up, which will once again star Henry Cavill as Superman and co-star Batman, and Supernatural star Jensen Ackles wants it to be known that he is totally ready to tackle the role of Bruce Wayne! Not only does the actor have ties to the iconic DC superhero (he voiced Red Hood in the animated film Batman: Under the Red Hood), he rocked a Batman t-shirt at Comic-Con 2013!
We chatted with Ackles after Supernatural's panel at the Con, where he showed off his shirt with pride, asking fans, "What do you think?!" Cue deafening screams in 3...2...1....