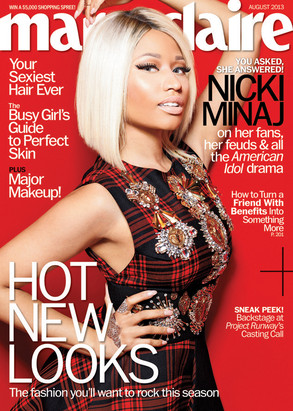 Satoshi Saïkusa/Marie Claire
Nicki Minaj has a lot on her plate: She's recording a new album (and plans to put out at least three more). She's releasing a clothing line for Kmart. She's costarring in her first movie. And, on top of all that, she wants to be a mom.
"You feel the need to pay it forward, which starts with analyzing yourself with a true desire to grow," the Marie Claire cover girl tells the magazine about a recent "epiphany" she had on her success.
The rapper continues, "I was praying every day, 'You know what, Lord? I want to be a mom one day, and I want to start becoming the woman who I want to parent my child.'... I didn't want to become a person who wasn't enjoying the moment."