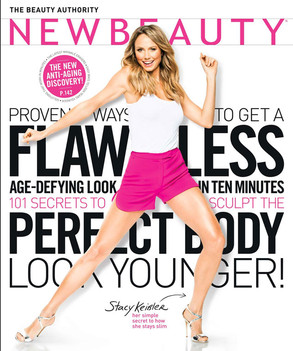 Larsen&Talbert
Those envious of Stacy Keibler's long and lean body may find comfort in knowing she actually logs a lot of work keeping her body in shape.
And as the latest cover girl of NewBeauty magazine, which hits newsstands on June 25, the leggy lady is opening up about the fitness and nutrition secrets that help her get red carpet ready.
As it turns out, she's very careful about what goes into her body.
"My life changed when I did the 21-day Clean Program," she dished. "It changed the way I look at food and how I eat it—and it changed all my family and friends' lives too. There's so much knowledge out there now that tells us that eliminating certain foods in our diets might be linked to pinpointing an allergy or something more serious—and I'm fascinated with that. I eliminated sugar, fruit, beans, corn and gluten, and I looked at it like an experiment with my body and my mental clarity."