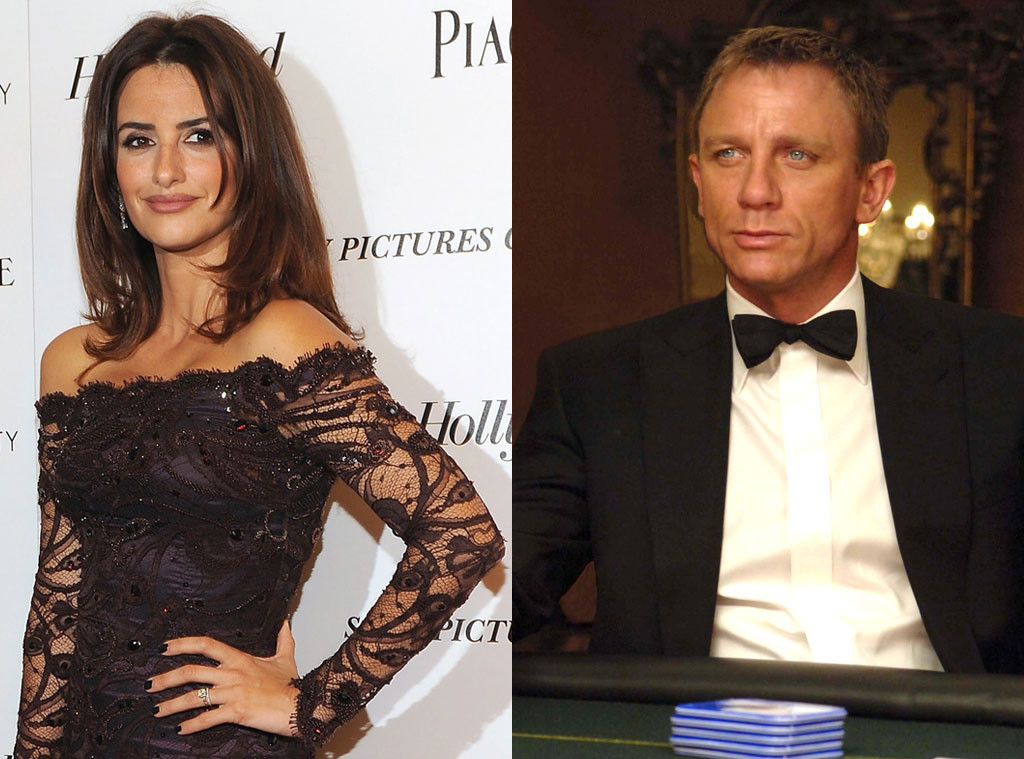 Sony Pictures, Getty Images
Her hubby killed it as an insta-classic Bond villain—could Penélope Cruz now be ramping up to join James Bond's globe-trotting adventures?
Javier Bardem's missus has found herself at the center of speculation that she could be the next Bond girl after reports surfaced claiming that the Nine actress has signed up for the unnamed Bond 24 movie, which will reportedly reunite Daniel Craig with his Skyfall director, Sam Mendes.
Looks like it's just wishful thinking: Although Cruz's rep could not be reached for comment, a source tells E! News that the casting rumors are "not true."
Still, even if the 39-year-old Spanish actress may not be boarding the Bond bandwagon, here are five other actress we'd think would shake and stir things up quite nicely with 007.
Courtesy of Paramount Pictures
1. Zoe Saldana: She's already squared off against marauding Earthlings in Avatar and an intergalactic terrorist in Star Trek Into Darkness. Isn't it about time the 34-year-old join forces with our favorite superspy to pummel some Bond baddies? The athletic actress, who was trained as a ballet dancer, has already proven herself to be quite adept at physically demanding roles. And in 2011's Colombiana, she also revealed a ruthless streak while wielding a gun as a steely assassin. Let's give her a clear shot at a Bond gig, yes?
2. Kerry Washington: The 36-year-old beauty possesses nerves of steel, a razor-sharp intellect and loads of resourceful chutzpah—qualities on full display in the take-no-prisoners crisis-management pro she plays in ABC's Scandal, Olivia Pope. We're betting Bond could always use a brainy beauty by his side, and Washington may just fit the bill.
3. Lucy Liu: She's already whupped ass with Drew Barrymore and Cameron Diaz in two Charlie's Angels movies and faced off against Uma Thurman in Kill Bill, so you know the 44-year-old has got more than a few lethal moves in her arsenal. And as her turn in NBC's Sherlock Holmes redo Elementary can attest, the lady can match wits with the best of them, making her the perfect partner-slash-foil for Bond.
4. Paula Patton: When it comes to superspy bona fides, Patton's earned her stripes: The 37-year-old teamed up with Tom Cruise's Ethan Hunt in 2011's Mission: Impossible—Ghost Protocol. And when you're part of the crew that makes sure that Hunt doesn't splatter himself all over Dubai after plunging from the Burj Khalifa tower, well, we're guessing that's the kind of woman that 007 will want on his side.
Frazer Harrison/Getty Images for KCA
5. Kristen Stewart: Before you start flinging deadly steel-rimmed bowler hats at us, hear us out: Sure, the actress may still be best known for playing Bella in the Twilight saga. And sure, her rocker-chick turn in The Runaways doesn't quite scream "007!" But lest we forget, the actress pulled off a pretty convincing turn as a warrior-esque princess in Snow White and the Huntsman—complete with horse-riding, sword-fighting gamesmanship. Plus, this wouldn't be the first time her name's been attached to 007: Last fall, the actress 'fessed up that she'd love to play a Bond girl. Now, if she can only convince Daniel Craig, who quite frankly, didn't seem entirely sold.