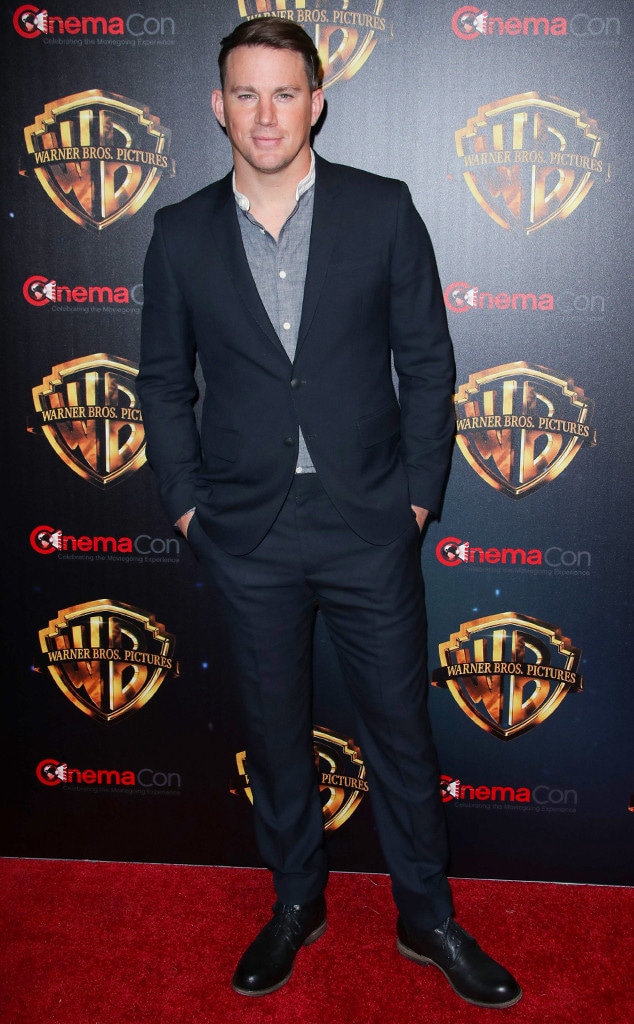 Matt Baron/REX/Shutterstock
Turns out, Channing Tatum is just like us. Why? He loves Jennifer Lawrence.
"I wouldn't mind being the male Jennifer Lawrence. I think she's incredibly cool," the White House Down star says in the upcoming issue of Cosmopolitan, in which he appears as the July "Cosmo Guy" and also dishes on his marriage to pregnant wife Jenna Dewan.
The adorable couple of nearly eight years is currently living together in London while Channing is filming Jupiter Ascending, and the father-to-be shares the secret to making their marriage work.
"You have to want it," he says of their rock-solid relationship. "Jenna's and my thing is checking in with each other all the time, like 'On a scale from 1 to 10, how much do you love me right now?' And you gotta be honest, and you've got to want an honest answer."
Channing also credits his friends with his down-to-earth demeanor and insists his silly pals will never let his Sexiest Man Alive status go to his head.
"My friends keep me grounded. It's embarrassing to tell you how much my friends make fun of me," he confesses before owning up to his X-rated doll collection. "Seriously, when you have a doll made of your face, it's ridiculous how creative your friends can get…pictures, videos, little animated cartoons they've made. And they're way, way not PG-13. So I get chopped down to size all the time."
Although we can't get over Tatum's chiseled abs and gorgeous mug (and we'll never forget those Magic Mike moves!), the A-lister insists he's not as sexy as he seems.
"I'm a fat kid on the inside," he says. "I love food so much, and I fluctuate about 25-30 pounds between movies. I feel like I have to do a chess movie that requires very little movement at some point, just so I can eat pizza and play chess on the beach all day. And then eat more pizza and cheeseburgers and drink beer. That'd be amazing. I'd give anything for that. I gotta figure that movie out."
And we'd still go watch.